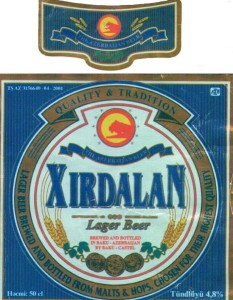 Singing, dancing, cheering and waving flags like a crazed person will all be thirsty work at the Eurovision Song Contest 2012.  The good news is the event now has an official Eurovision beer to help slake everyone's thirst.  Baltika-Baku brewery announced it's the official partner of the 2012 contest.
Baltika-Baku brewery will be promoting two beers, the Azerbaijani Khirdalan (Xirdilan) and the Russian Baltika. The Khirdalan brewery has a long history in Azerbaijan, originally established by the Soviets in 1972. After being bought out by the French beer group Castel in 1997, the brewery is now majority owned by the Russian beer giant Baltika. The Khirdlan brewery makes over 60% of the beer in Azerbaijan and makes up 28% of all sales of beer in the country.
Although it will be easy to get a bottle of Khirdalan at Eurovision 2012, it's debatable whether you'll want a glass.  Beer rating website beer.trash.net gives the leading beer of Azerbaijan a disappointing 2 bottle tops on a scale of 5.  This equates to 'pretty bad'.  You may be better off going for the Russian half of the deal – Baltika beer, which gets a much more impressive 4 bottle tops which is 'good'.
Links