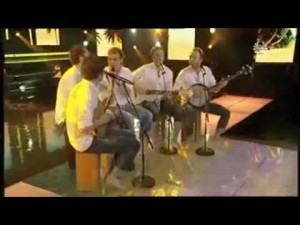 During three preliminary heats a total of 7 acts had qualified for the Icelandic final held this evening. Minutes ago it was decided that it will be up to Sigurjón's Friends to bring the Nordic Island into the final of the Eurovision Song Contest for the fourth year in a row.
Top favourites for tonight were Yohanna, who finished second in the 2009 Eurovision Song Contest with the song Is It True? And Erna Hrönn, backing singer for Yohanna at the same occasion.
The participants performed in the order of qualification, which means Haraldur Reynisson and Erna Hrönn on the first two positions as the came from 1st heat, Yohanna and the duet Matthías Matthíasson & Erla Björg Káradóttir on the next positions due to them qualifying from the 2nd heat and the remaining three acts; Jógvan Hansen, Magni Ásgeirsson and Sigurjón's Friends would then perform in last positions as they came from 3rd heat. 
Relevant links:
The songs: 
Haraldur Reynisson –- Ef ég Hefði Vængi
Erna Hrönn Ólafsdóttir –- Ástin Mín Eina
Yohanna – Nótt
Matthías Matthíasson & Erla Björg Káradóttir – Eldgos
Jógvan Hansen – Ég Lofa
Magni Ásgeirsson – Ég Trúi á Betra Líf
Sigurjón's Friends – Aftur Heim
The show:
The stream started a couple of minutes later, but as we came in we were treated to Stjórnin's Eitt Lag Enn, the song that represented Iceland at the 1990 Eurovision Song Contest. This version was significantly slower though. 
In Iceland they are quite good at presenting the performers as before each song they spent 10 minutes talking about the coming act and also show a pre-recorded video where the performer presents themseves. 
After all seven songs had been performed they talk to previous Icelandic participants such as Ingibjörg Stefánsdóttir, who represented them in 1993 with the song Þá veistu svarið. 
Shortly before the result is about to be ready Hera Björk comes on stage. Clips from her performance in last year's Eurovision Song Contest is shown as she talks about her experience. She is, of course, also singing. It appears to be a new song, but unfortunately they don't show any title for it.  
The result:
Two acts were called up to the stage again; Magni Ásgeirsson and Sigurjón's Friends. And the winner is…. Sigurjón's Friends. In Düsseldorf they will be singing the song Aftur Heim. The song is written by Sigurjón Brink, who was also supposed to have performed it himself, but he passed away only 36 years old shortly before the semi-final. Instead his friends jump in to honor him – something they will now also be doing in Germany.