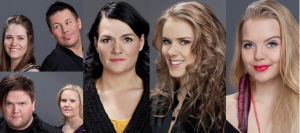 Icelandic broadcaster RÚV has now revealed all participants competing in this Saturday's 2nd heat of Söngvakeppnin Sjónvarpsins. Some of those taking part are already familiar faces, others less so, so perhaps it's time to get to know the next 5 hopefuls.
Song number 1: Jóhanna Guðrún Jónsdóttir – Nótt/Night (María Björk Sverrisdóttir/Marcus Frenell/Beatrice Eriksson/Magnús Þór Sigmundsson)
Who doesn't remember Jóhanna's magical performance from Moscow with Is It True in 2009? She's hungry for revenge, looking to go one better than her 2nd placing two years ago. The young singer is already a dab hand at performing in public, known for her crystal clear vocals. She brought out 3 albums before she was even 13, 2 of which were awarded a gold disc, and the other platinum! 2007 saw the release of her adult album Butterflies and Elvis, and at the same time she studied at the vocal institute in Copenhagen. 2009 saw her gain international recognition following her 2nd placing at the Eurovision Song Contest with Is It True?, which went on to become a major hit in several European countries. This year's entry which she hopes to take all the way to Düsseldorf is entitled Nótt (Night). 
Song number 2: Bryndís Ásmundsdóttir  – Segðu Mér/Tell Me (Jakob Jóhannsson/Tómas Guðmundsson)
Bryndís completed her musical studies in 2003, and since than has gone on to star in shows both on Broadway and in the Icelandic State Opera. She has also been the front figure of the band Búðabandsins, and has been a keen supporter of lesser known bands. Bryndís is also known as an actress in Iceland. 
Song number 3: Kristján Gíslason & Íslenzka Sveitin – Þessi þrá/This Longing (Albert G. Jónsson)
Kristján is another familiar face returning to this year's Söngvakeppni. Some may remember him as one half of the duo Two Tricky who sang Angel into a disappointing 22nd place for Iceland way back in 2001. But Kristján has been known to the general public since he first took part in the same contest in 1991! He also featured as a backing singer for Hera Björk last year in Oslo. Íslenzka Sveitin are the only band in the world who play solely Icelandic music at parties. They have an extensive repertoire and are reportedly in great demand. The band members have wide musical experience, although the band itself hasn't existed for that long. The group have collaborated with the ikes of Kung Fu and Dress Code. 
Song number 4: Rakel Mjöll Leifsdóttir – Beint á Ská/Straight Across (Tómas Hermannsson/Orri Harðarson/Rakel Mjöll Leifsdóttir)
Rakel Mjöll was born in California, but moved home during her formative years. She has studied song and vocal technique for two years and is currently lead singer with the group Útidúr, who released their first album The Mess We've Made last autumn. Rakel Mjöll also sings with the electro-dance band Sykur. She comes from an extremely artistic family, so you could say it's in her blood. The young singer has taken part in song contests before, but this year marks her debut in the national final. 
Song number 5: Matthías Matthíasson & Erla Björg Káradóttir – Eldgos/Explosion (Matthías Stefánsson/Kristján Hreinsson)
Matthías first came to the fore in 1994, when starring in the production of Hair at the Icelandic Opera. The role shot him to stardom at the age of 18. Since then he has gone on to become a popular entertainer figuring in the line up of bands such as Dúndurfréttum, Pöpunum, Buffi & Reggae on Ice. Erla Björg is a classically trained soprano, qualifying from the Garðabæ Academy of Music in 2003. 2005 saw her leave for Salzburg,  where she studied under professor Martha Sharp and Katharine Goeldner. Erla Björg has performed in concerts both overseas as well as in her native Iceland. Since returning home, she has sung with the ÓP group and the young singers at the Icelandic Opera. 
Listen to all the songs here
Watch the second heat of Söngvakeppni Sjónvarpsins here