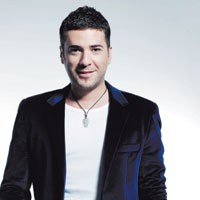 This year, Serbian broadcaster decided to participate at the 2012 Eurovision Song Contest with an internal choice like many countries this year, and the corporation made an arrangement with one of the big guns of this country, Željko Joksimović. Željko finally will announce his participating song with a special presentation show this Saturday.
In the middle of December 2011,
Serbian broadcaster RTS joined many countries and announced that Željko Joksimović will be representing this country at the 2012 Eurovision Song Contest.In the meantime Željko will own the creature of the Serbian representative act that he describes as a natural composure in his music life and for sure he and his team will be targeting the gold in Baku.
This Saturday, we will be coming to the end in this selection process and will be able to hear the Serbian song this Saturday – March 10th. The show will start at 21.00 CET and will be broadcast via RTS 1 and RTS international, via web and satellite.
Željko firstly appeared on the stage of the contest for the first time in İstanbul 2004, representing Serbia & Montenegro with the song Lane Moje. In the semi-final, he managed to receive the 1st placing but afterwards he finished the contest just behind Ukrainian Ruslana's Wild Dances. Later in 2005, he composed the song, Jutro, for the Serbian national selection but its performer Jelena Tomasevic just missed the ticket for Kiev.
In the year 2006, Željko was the composer of the Bosnia & Herzegovina entry performed by Hari Mata Hari. Željko gave his best to the song and Bosnia & Herzegovina received its best placing to date, Lejla succeeded to get the third placing in Athens.
Željko made a big return to the stage in his homeland in 2008, but as a host this time. He, with his partner Jovana Jonkovic, successfully presented both semi-final and final of Eurovision Song Contest in Belgrade. At the same time, Željko was also the composer of the Serbian song, Oro, which was performed by Jelena Tomasevic that year.
With all these participations on multi-talented areas, Željko Joksimović became a national hero in Serbia. Soon, we will learn whether he will be continuing his success or not in Baku. Below you watch Lane Moje performed by Željko and you may also take a look at his composures Lejla (Hari Mata Hari) and Oro (Jelena Tomasevic).