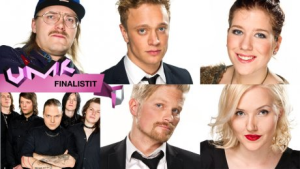 The semi final of Uuden Musiikin Kilpailu took place in Finland tonight. Seven acts competed and the top five progressed automatically to tomorrow night's final.  The expert jury selected one more act from the bottom two.
The show took place at the Helsinki Ice Hall. The seven songs and acts competing were:
Freeman & Uusi Fantasia
Noitanainen
Iconcrash
We Are The Night
Kaisa Vala
Habits Of Human Beings
Mica Ikonen
Antaa mennä
Pernilla Karlsson
När jag blundar
Stig
Laululeija
Ville Eetvartti
Lasikaupunki
After all the performances four acts were invited back to the stage – Mica, Pernilla, Ville and Kaisa. Kaisa was told to stay and the other three acts were advised they would progress to the final from the televote.
Next up came Iconcrash, Stig and Freeman & Uusi Fantasia.  This time Iconcrash and Stig were told they were through to the final via the televote.
So, Kaisa Vala and Freeman Uusi Fantasia faced the jury vote.  It was finally decided that Kaisa Vala would get the jury vote for the final.
The final will take place tomorrow night, Saturday 25 February, to decide who will represent Finland at the 2012 Eurovision Song Contest.