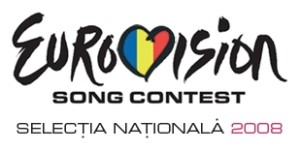 Tonight the second semifinal of Selectia Nationala takes place. In a 3 hours show there will be a wide variety of music, such as rock, ballad, country and traditional music with Balkan and latino influences.
The second semifinal of the Romanian selection, Selectia Nationala, is getting closer, it will take place tonight at 20:10 (ocal time) and there will be 12 participants who will try to impress both the audience and the jury tonight.  They will receive 50% of their score from televoting and 50% from jury.  This semifinal had no disqualifications.
Most of the participants have experience as they also took part in the 2007 "National Selection" ,and one of them, Nicola represented Romanian at the Eurovision Song Contest in Riga in 2003.
The guest for this semifinal will be the same as the first semifinal: Daniela Nane and Iulian Vrabete, but in the green room TVR made a change.  Instead of Berti Barbera we will now be hearing all the hot news from Iuliana Marciuc.  Through televoting, TVR prepared a retrospective of the Romanian entries to the Eurovision Song Contest.  Goran Bregovic and Funeral Orchestra will be the guest in the Romanian final.
Names like Mihai Traistariu (Romania 2006) and Marcel Pavel (Romania 2002) will come and talk about their own Eurovision experience and perform for the audience.
Only six songs will make it to the final from this semi.  In the final they will be joined by the six qualifiers from the first semifinal.
The 2nd semifinal participants are:
01. Monique, Vant de vara
02. Lucia Dumitrescu, Dragostea mea
03. Nico, Fight for life
04. Nicola, Fairytale story
05. Zero, Come this way
06. Rednex feat Ro-mania, RailRoad, RailRoad
07. VH2, Follow me
08. Viper, Mas conmigo
09. Catalin Josan, Run away
10. Imba, Yeke Yeke
11. Biondo, Shine
12. Paula Seling si Provincialii, Seven days