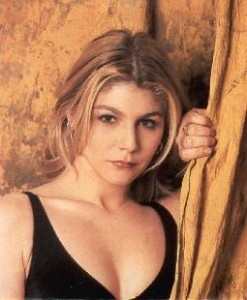 Belgian Eurovision Song Contest winner is starring in a new episode of a docu soap TV advert for the washing powder Dash. Her winning song is being changed from J'aime la vie to J'aime le blanc with blanc being the French word for white.
The TV advert shows housewife Rita and her husband Marcel, who use to perform together with Sandra Kim, cleaning in the attic. She comes across the golden record of J'aime la vie which leads to Marcel finding his white suite he use to wear when performing with Sandra. Only problem is that it is no longer so white, but of course Rita knows the solution to that. She washes it with liquid Dash washing powder and the outfit is shiny white again.
Marcel rushes off to show the clean outfit to Sandra Kim and suggest that they perform again. She agrees and on stage they are singing J'aime la blanc.
Here is a transcript of the dialogue for the advert, which you can watch via our Youtube channel below:
Rita finds the golden record for J'aime la vie in the attic.
Rita: Oh my, what is this?
Marcel: That's from the time that I played in Sandra's band
Rita: Really?
Marcel: But my outfit has lost its shine!
Rita: No problem, we'll give your outfit a second life with liquid Dash
Marcel: Makes grey laundry shining white after only a few times washing
Sandra: Hi Marcel, long time no see
Marcel: See here, shiny white – we will have success again
Sandra: <sings> J'aime le blanc, yeah it is shiny white
Voice over: Thanks to Dash, Marcel's clothes are shiny white. But for how long will he shine on the stage?
Links