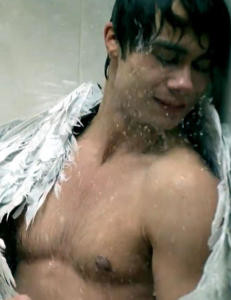 In a video like you've never seen him before, Alexander Rybak dusts down his 2010 release Oah, giving it a brand new music video intended for the russian speaking market.
The single Oah was originally included on his follow up album to Fairytale, No Boundaries and released way back in June, 2010 in an english language version. It was a moderate hit in Norway, making number 23 on the charts. This latest video to accompany Oah was not previously released in Norway, filming having only been completed in the spring where it was filmed in Ukraine. The newest release is the first of a number of russian language projects in the pipeline, as Alexander Rybak recognizes that Russia and Eastern Europe are two very important markets for his career.
The video sees Rybak grow a pair of angel wings in his hotel room, where he also appears naked from the waist up, appearing to flaunt his body. He then  wanders around a city, possibly Kyiv, spreading love wherever he goes. Upon returning to his hotel room, Rybak breaks down in tears in the shower. The fact that Rybak has shown so much skin has created quite a media storm, which his manager, Kathrine Synnes attempts to quell with the following statement to Norwegian tabloid Dagbladet: "The video is made by his russian management team, with a russian audience in mind. The video was produced for a completely different market than Norway, where things work in an entirely different way."
Young Rybak was reportedly unabashed by wearing little clothing during the filming of the video. Synnes comments further that "I don't really think he's that scantily clad. I can understand that ir's caused quite a stir, even if it was never our intention. The look ties perfectly in with the video storyline and the song", she goes on to explain. Hopefully the plan will pay off and provide him with a sizeable hit in Eastern Europe this summer.