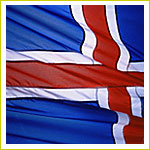 Icelandic state broadcaster Ríkisútvarpið (RÚV) have released rules for the 2012 edition of Söngvakeppni Sjónvarpsins, opening for entries to be submitted. Everything indicates that RÚV intend to select their entry for Baku using the same selection process as this year, keeping in line with the format of previous years.
Although the exact dates have yet to be confirmed, it is expected that the pre-final heats will be held during the course of January-February, the dates will apparently be confirmed shortly. The number of heats and number of participants in each heat is also yet to be confirmed, but most probably will follow the same pattern as last year. Anyone wishing to submit an entry to RÚV can do so up until the 10th of October.
As stipulated in the competition rules recently published by the broadcaster, both Icelandic citizens and legal residents of Iceland can apply, as well as those collaborating with Icelandic songwriters and composers. All entries are to be performed in Icelandic, with the possibility for translation into another language for the eventual winner of Söngvakeppni Sjónvarpsins prior to Baku. A maximum of three submissions per person is allowed.
With regards to the selection process, RÚV will choose internally by means of a committee which entries that eventually make the grade and will proceed to the pre final heats. The identity of the composers/songwriters will at this stage be withheld from the committee members in order to avoid cases of bias and favouritism, judging the song rather on its musical merits than who is actually behind the entry. The names of the composers and lyricists will be made public at a press conference, well in advance of the start date for Söngvakeppni Sjónvarpsins.
Iceland managed to qualify from their semi final to the final in Düsseldorf this year represented by Sjónni's Friends singing Coming Home, reaching 20th place with 61 points. Hopefully RÚV will be equally as successful in attracting big names next year as they were this year, with the likes of Jóhanna, Erna Hrönn, Jógvan Hansen and Magni among the competition.
To view the published rules of Söngvakeppni Sjónvarpsins 2012 (Icelandic only) click here.