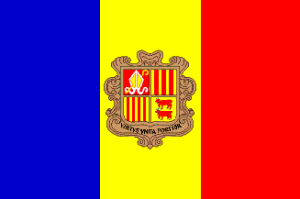 When Andorra in January pick their participant for the 2009 Eurovision Song Contest they have three well-known names to choose from. Internationally the most famous name is Susanna Georgi, one half of the Danish pop duo Me & My.
The three participant to compete for Andorra were picked by a professional jury without connection to the broadcaster. At the same time, it was announced that the final would be held in the Apolo Andorra Hall sometime in January. An exact date is yet to be announced. The popular TV host Merci Picart will host the show.
The three participants are:
Susanna Georgi – Get A Life
Lluís Cartes – Exhaust
Marc Durandeau & Marc Canturri – Estrelles d'or
Susanna Georgi, who is actually called Susanne, participated together with her sister in the 2007 Dansk Melodi Grand Prix as the duo Me & My. Their song Two Are Stronger Than One came sixth. The duo has previously had international success with songs like Dub-I-Dub and So Many Men. Susanne Georgi also announced the Danish points at the 2007 Eurovision Song Contest. It is believed that the song will be translated into Catalan, which shouldn't be a problem for Susanna as she lives in Andorra and does speak the language.
Lluís Cartes won the national contest Sona9 in 2005 and was awarded with the Carles Sabater award for the best in song Catalan.
Marc Durandeau & Marc Canturri are both well-known artists in Andorra. Marc Durandeau is famous as a singer and composer and Marc Canturri is a popular lyric singer.