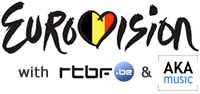 Belgian Walloon broadcaster RTBF has unveil its plans for finding the successor of one of this year's more pleasant surprises, Tom Dice. A website has been launched today in cooperation with music production company, Aka Music. 12 songs are competing to represent the country next year in Germany.
Tom Dice and Me and My Guitar gave Belgium a sixth place in this year's contest, the country's best palcing since Urban Trad took Belgium to a tantalizing second place in 2003. Naturally, RTBF are hoping to replicate the success achieved in 2010.
In order to participate in the selection process, artists have had to create profiles on the webpage, containing information, photos, and snippets of their music, so that viewers can find out more about the hopeful acts, and even leave them messages of support! Members who have created an account with Akamusic, are then allowed to back their favourite act at €5 per bid. The artists who manage to raise €20.000 in backing then go on to a further round in the selection process. All those who have backed artists that didn't make it to the next round will be reimbursed by Akamusic.
The site shows the various acts in chart format, where the site visitor can sort and show the artists' placings in terms of numbers of visitors to their profiles, numbers of fans, or the amount raised in financial backing at any given time. The first selection round is open until the 31st. December, 2010.
Artists and songs that are in the running:
Silent Box – Not Gonna Get Us
Léa Clément – Où s'en Vont Nos Rêves? (Where Do Our Dreams Go To?)
Gautier Reyz – Ice Blood
Double Vie – J'imagine (I guess)
Daya & Loù – Respire Encore (Still Breathing)
Mona – I Believe You Know
Redson Kobo – One More Chance
KS1 – 2nite
Krystel Yorke – Taste of Today
E.M – Tic Tac
Thomas Laurent G – Juste un Petit Coucou (Just a Little Hello)
Loic Schumacher – Il Ne Reviendra Plus Demo (He Will Not Return  -Demo)
Links
Official Eurovision website of RTBF
In my view
Judging by the information and pictures of the proposed artists, RTBF have chosen something for everyone, with artists of all ages representing all kinds of musical genres. Unfortunately the web page is, for the time being, only available in French although it still contains many pictures and snippets of the potential entries which are of great interest to fans regardless. It's encouraging to see that almost half of the proposed songs are in French – according to the rules posted by RTBF, song titles are not allowed to be changed, so this is indeed promosing for all francophiles!

The opinion expressed in "In my view" are those of the author and are not necessarily the one of EuroVisionary.com.