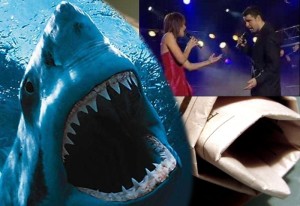 The Romanian press is having a hard time accepting Nico and Vlad Mirita and their winning song Pe o margine de lume. The newspapers are still full of accusations of fraud, plagiarism and ugly words not worth repeating.
Right after Romania decided upon the winners of the 2008 National Selection, the press launched a massive attack against the winning song Pe o margine de lume sung by Nico and Vlad Mirita. Despite TVR's investigations they do not want to accept that the song is not plagiarised and if they couldn't get them on David Bustamante's La Magia del Corazon from 2002 then they are now trying to find other songs it must be a copy of.
The first publication that attacked the winners and TVR were ANTENA 3. They are in an open letter to Nico asking her to withdraw and calling the song "a sad imitation with sense of plagiarism".
Another article written by the same publication brings a lot of false accusations which they believe are reasons that can disqualify Pe o margine de lume and they are directly calling the winning song a "national shame".
 
The newspaper Jurnalul National recently published a new plagiarism accusation for the song. They claim that a part of it is too similar to a song from 1986 from the Romanian Music Fastiva "Mamaia 1986". The same newspaper had a couple of days earlier directly accused TVR of deliberately not wanting to respect the rules of the Eurovision Song Contest. 
Atac Online is writing an article under the name "Stupidvision Romanian Final 2008". As most will be able to guess it isn't exactly nice things they have to say. They directly call it a stupid final and is writing some very nasty words about Nico associating her with animals. About the song " Pe o margine de lume" they just simply conclude that it is a song with "no sense, which will not pass the semifinal in Belgrade.     
The blog putregai.blogspot.com continues their mission to get the song disqualified. They have sent a petition to EBU and also asked the Romanian CNA Organisation (The national organisation of audio-visual) to step in.
EuroVisionary has been following this case right from the start; we did our own investigations and found no reason for the song to be disqualified. You can read more about that in our "case closed" article.