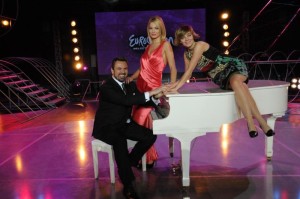 On Saturday March 6, TVR 1 will present the National Selection Eurovision 2010, a live show that will chose the song that will represent Romania at Eurovision this year in Oslo.
It will be a live transmission from "Globus Circus" in Bucharest during which 16 composers will try to win not only the honour of being the best composer, but also a set of Seat Ibiza car keys from the Alto Syncro Company. The show will be presented by the model Valentina Pelinel and the singer Horia Brenciu, with Geanina Corondan reporting from the Green Room. The special guest at the event will be  The Olsen Brothers from Denmark, the winners of Eurovision 2000 with the song  Fly on The Wings of Love.
The winning song will be chosen by a professional jury and viewers, the votes will be 50% expert juries and 50% televoting.
For the first time in the Romanian National Selection, to ensure the best and clear result, TVR will organise this year five specialist juries in Bucharest, Cluj, Iasi, Timisioara and Craiova. The juries will comprise music professionals (producers, composers, musicologists, performers, writers, film makers and TV and radio directors). The National Selection this year is a co-production by TVR with the newspaper Adevarul (The Truth).
The finalists in order of performance are:
1)  Jack Pott –  Razvan Krivaci
2) Save Their Lives – Luminita Anghel
3) Playing With Fire – Paula Seling
4) I'm Running – Dalma Kovacs
5) Crazy – Alexandra
6) Running Out Of Time – Pasager
7) Come Along – Laura Petrescu & Mihai Preda
8) Come As One – HotelFM
9) Lay Me Down – Zero
10) See You In Heaven, Michael – Lucia Dumitrascu
11) It's Not Too Late – Paula Seling & Kamara.
12) Searching For Perfect Emotion – Lulu and the Puppets
13) Surrender – Anda Adam
14) Love Is War – Tina G
15) Baby – Alexa
16) Around Around –  Catalin Josan.