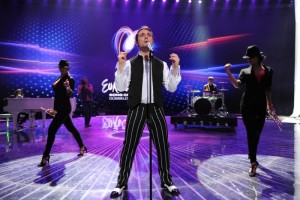 Trio Hotel FM come to Düsseldorf with high hopes for Romania.  This upbeat song is staged fairly simply and hits a lot of the right buttons.  This could well become a favourite with the press.
Some four months ago, Romania picked Change in a marathon national final.  Hotel FM won the ticket with a half decent song.  Today in Düsseldorf we saw them on stage acquitting themselves well.  Lead singer David Bryan was in fine voice, and there were almost no mistakes.
There are five on stage.  We have the drummer and pianist from the band, in suits, and two female dancers in black.  Hats and trumpets complete the dancers' look.  David is in a white shirt, black waistcoat and striped black and white trousers.  He moves around the stage well and interacts with the dancers from time to time.
The backdrop is lines and curves, sometimes electric blue, sometimes yellow.  Red lights flash during the song, both behind the back drop and also around the sides of the arena.  Finally, we have a volley of firecrackers right at the end of the song.  It's all been very well thought out.
Romania should expect a good result next week.