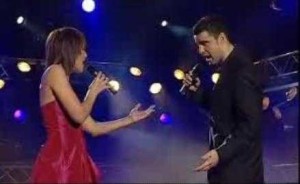 The Romanian National Final has ended and Nico & Vlad Mirita will be representing the country at the 2008 Eurovision Song contest in Belgrade.
During 2 hours 12 songs were fighting for the big prize: A trip to Belgrade. It was a hard competition where everyone tried to impress the audience and the jury, but only one would have the oppertunity to represent Romania in Belgrade – and that will be Nico & Vlad Mirita with the song "Pe o margine de lume". 
The guests in the final were the same as in the 2nd semi final, Alina Sorescu and Iulian Vrabete. And in the green room we had Iuliana Marciuc. During the televoting time Goran Bregovic and his orchestra entertained.
The result turned out to be quite close as Nico and Vlad Mirita recieved 271 points while the Swedish band Biondo got 264 points. But the population showed that they are nationalists and prefer to be represented in Belgrade by Romanian singers.
In my view
It was a hard competition with good songs and strong voices. The show  was very good and the Romanian broadcaster have made a good job.

The opinion expressed in "In my view" are those of the author and are not necessarily the one of EuroVisionary.com.