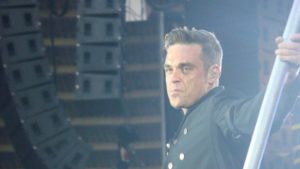 The 2014 edition of the Eurovision Song Contest barely had ended before Robbie Williams at a concert in Denmark spoke about this year's winner Austrian Conchita Wurst, and also promised that he would take part next  year. Do we have the first participant for Vienna 2015 ready?
Sunday evening, Robbie Williams, gave a concert in Boxen, Herning, which was also in the running to host this year's Eurovision Song Contest. At that concert Robbie mentioned that it was a great show Copenhagen pulled off, that he enjoyed it, and after congratulating Denmark with last year's victory, he went on to talking about this year's winner Austrian Conchita Wurst: "It was the damn beard that did it, but it was brilliant crap. You, young people might not understand it, but in my age, you appriciate brilliant crap". 
Robbie Williams, has at previous occasions spoken very positive about Eurovision, and Sunday evening he opened up for the possibility of participating himself: "Maybe I should do Eurovision. Do you want me to do Eurovision? Ok, I'll do it!". Just like Conchita Wurst had the beard, Robbie also say the nessasarity of a gimmick as he mentioned that he would wear a wig, if he was to take part.
This year's Eurovision Song Contest ended Saturday evening with a victory to Austria with the Netherlands in second place. This year's UK entry; Children Of The Universe performed by Molly came 17th and in the past ten years they have only once been in top 10, so maybe the country could use Robbie Williams as their participant for the 2015 Eurovision Song Contest in Vienna. 
Below you can see the Austrian winner song plus the United Kingdom entry: