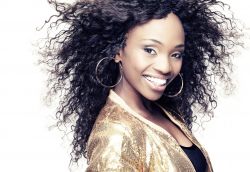 With just over a month to go before Stella Mwangi takes to the stage in Düsseldorf in attempt to bring Norway from the first semi final to the final, a new, reworked version of Haba Haba has been released.
Following Stella's numerous performances of her winning entry, much criticism has been aimed how flat she has sounded at the beginning of the song, clearly struggling to reach the lower notes, thus giving a less than desirable sound image. This problem has now been remedied, in the new improved version of Haba Haba, where the melody has been changed from G moll to G sharp, thus being a half octave higher and clearly making matters easier for Stella to reach the troublesome tones.
In addition, the introduction of the song has been revamped, beginning with a highly effective acapella version of the chorus. All in all, these small yet effective changes should help Stella should nerves get the better of her when standing in the Esprit Arena in the first semi final on the 10th of May. Feedback from fans are generally positive, saying amongst other things, that the song sounds much fuller after these adjustments. Stella will also be filming a music video for Haba Haba on the 10th of April, in Huk, a residential area in the west of Oslo at 12:00 noon.
The new version of Haba Haba is to be included on the official Eurovision CD due for imminent release, and which is already available for download at iTunes. Judge for yourself whether the new version is an improvement on the old one by listening here. 
Links