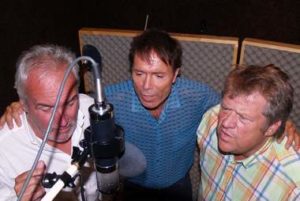 Danish Eurovision Song Contest winners from 2000, the Olsen Brothers, released a new album a few weeks ago. The album, where they sing together with Cliff Richard on two tracks, is called 'Respect' and that is what the brothers deserve after once again climbing the charts.
As previously mentioned here on EuroVisionary, it was a dream come true for Noller and Jørgen Olsen when they got the chance to record with Cliff Richard. The Danish Eurovision Song Contest winners first met with Sir Cliff at the Dansk Melodi Grand prix 2002, when Cliff Richard was the interval act. The Olsen Brothers were big fans of Cliff, and the first song they ever played in public was a cover version of his Lucky Lips, at that time they were 8 and 12 years old. Cliff Richard might be a bigger name internationally having sold more than 250 million records worldwide, but he also had a lot of respect for the Olsen Brothers and admitted being a bit jealous of them as they managed to win the Eurovision Song Contest (With Fly On The Wings Of Love, EDT.). He tried twice, but came 2nd and 3rd.
During the meeting in 2002, Jørgen gives Cliff Richard a copy of their album, Walk Right Back from 2001. Three years later, Cliff Richard mentions a song from that album, Look Up, Look Down, in a BBC program. He says that it is a song he really loves a lot and adds that if the Olsen Brothers should ever need a new choir singer,0 he is ready. That message was heard in Denmark and in June this year, they recorded that song together in Cliff Richards vineyard in Portugal. At the same time, they also recorded a new version of Cliffs old hit Livin' Doll together. Both of these songs are included on the new Olsen Brothers album 'Respect' that that was released a few weeks ago and is currently 5th on the Danish album top40.