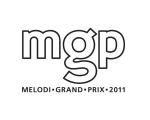 NRK have revealed that the two acts that gained the highest number of votes coming in 5th in their respective heats will be given another chance and invited to perform once again in the Siste Sjansen heat from Sarpsborg on February the 5th. The two acts that were given another chance were Gata's Parlament and Pernille & Marius.
Gata's Parlament will, by all accounts, have a difficult time making their plans fit around the surprise announcement, telling NRK.no that they had already had to gigs booked for the weekend! Rest assured they will make space in their schedule, as such an appearance is simply to good an opportunity to say no to. At the beginning of the week, the band had jokingly threatened action if they were not allowed back into the circus that is Melodi Grand Prix, posting comments on NRK's chatsite, where band member Aslak clearly stated that they should be allowed to continue in the contest if NRK want to see their stage set again. As we all know, the stage set was stolen on early Monday morning – merely a coincidence, strangely enough, as it's the votes of the public that have decided which two acts get to live another day and fight for a place in the final on February the 12th.
Pernille and Marius were reportedly thrilled at being given another chance, following their elimination in Florø. When NRK.no made the call to Pernille, they were met by deafening screams down the line, with Pernille jumping for joy at the prospect of getting to perform again. Poor Marius, on the other hand was unable to react in quite the same way as he was at home sick when the news broke. He reassured NRK however that he was thrilled with the news, saying that "If I'd have been in better shape, I'd have made a bit more noise!"
The line up for Saturday's Siste Sjansen heat will therfore be as follows:
Use Me – Daisy
Sie Gubba – Alt Du Vil Ha
Mimi Blix – Allergic
Endre – Oh, Oh (Puppy love)
Susperia – Nothing Remains
The Lucky Bullets – Fire Below
Gatas Parlament – Jobbe Litt Mindre og Tjene Litt Mer
Pernille & Marius – I'll Be Yours

For the record, the stolen trailer was later found in Denmark, the stage set and equipment was recoveredand everything seems set for a great show from Sarpsborg. The drama continues…