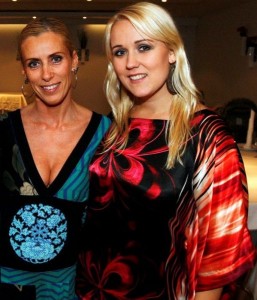 As mentioned in our earlier article, the duo behind fan favourite Nótt, performed by Jóhanna are giving it another go this year. María Björk Sverrisdóttir and swede Marcus Frenell have teamed up with Fredrik Randquist to compose a new entry for next year's Söngvakeppni Sjónvarpsins.
Many remember Jóhanna's magical performance of the touching ballad Nótt, which went on to win the OGAE second chance contest for Iceland. Just as many were probably hoping for a reprise this year, once the names of María Björk Sverrisdóttir and Marcus Frenell  were confirmed among those composers participating next year. The duo however have chosen a new collaborator in their search for success and the choice is just as pleasant a surprise for all fans, with Regina Ósk being confirmed as the first artist to take part in next year's national final.
Regina Ósk has become a familiar face to most Icelanders through her participations at both Söngvakeppni Sjónvarpsins in 2006, coming second with Þér Við Hlíð (By Your Side) as a backing singer for Iceland at numerous Eurovision Song Contests (2001, 2003 and as backing for Selma in 2006 with If I Had Your Love). Her big break however came when teaming up with Friðrik Ómar, forming the powerhouse duo that is Eurobandið, performing the dance stomper This Is My Life in 2008. Eurobandið gave a stupendous performance on the night, helping to break the spell and bring Iceland to the final of the contest for the first time in 4 years, ending up in 14th place.
Three years have since passed and Regina Ósk thinks it's time to return to the stage. María Björk is very confident of the singer's chances at next year's final, saying that "This is a song with such a groove and rhythm that will have everyone on their feet." The song, entitled Hjartað Brennur (My Heart is on Fire) demands stage experience and vocal capability, which made Regina Ósk the natural first choice for María Björk. The writer has been a faithful collaborator of Jóhanna's over the years, but the young singer's move to Norway next year has maybe put a spanner in the works for their work together. Jóhanna has also expressed an interest for representing Norway at Eurovision in an interview with NRK. Nevertheless, María Björk is elated at the prospect of working with Regina Ósk, adamant that she was her first choice from the very start, well aware that the singer has what it takes to deliver the goods when needed.