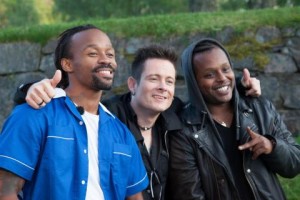 The boys behind one of the most memorable interval acts of recent years, Glow, from the 2010 Eurovision Song Contest in Oslo are back and this time they've come up with a partnership that looked nigh on impossible a mere five months ago.
Tschawe Baqwa and Yosef Wolde-Mariam, aka Madcon have for the first time in their career made a norwegian language rap album. Their fifith album, Contakt, was released yesterday and already includes the two singles Snu Deg Rundt (Turn Around) and Kjører På (Getting to it) and features an array of collaborations, such as Maria Mena, Vinni and OnklP, all huge names on the Norwegian music scene. Another name that has raised many an eyebrow so far is that of Lars Erik Blokkhus. It might not be apparent who he is at first going solely on his name, but when we say Plumbo and Ola Nordmann, we think the penny will drop.
Plumbo were of course the huge favourites to win Melodi Grand Prix earlier in the year, much to the disdain of many, among criticisms that their music had no place at Eurovision. Right before the final, publicity seemed to explode around the band, as they took part in a televised awards ceremony, the Spellemannspris and made jokes with more than just a racist overtone aimed at the boys in Madcon. Madcon bit back, and then a whole tabloid feeding frenzy ensued, as the two camps exchanged unpleasantries with one another through the media. This was just one of the events that many claim ruined Plumbo's chances of winning the Melodi Grand Prix this year and it looked as if the whole sorry episode would make the two bands sworn enemies of each other for life. Things took however a slightly different turn recently.
Baqwa and Wolde-Mariam wrote a lengthy e-mail to Blokkhus, lead vocalist of Plumbo, stating the importance of a potential project between the two, showing the outside world that the two had officially buried the hatchet and that the initial feud had been orchestrated entirely by the media. The duo from Madcon recently told tabloid VG prior to the release of their album that "It was great to get together with Lars Erik, to have a giggle, knowing that we were making something really creative together in secret" and how the collaboration had gone off without a hitch.
That Blokkhus and Madcon have managed to create sweet music together has suprised many and the song Vålenga is the result of their efforts, with Plumbo vocalist contributing to the vocals on the chorus of the song. The album has met with generally positive reviews and will undoubtedly go on to sell by the shedload. Welcome to the world of the grown ups, boys. It was about time you kissed and made up.