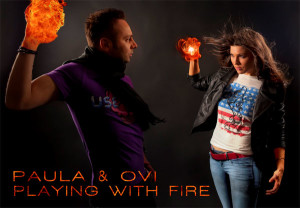 After a high quality final in Bucharest tonight, duo Paula and Ovi will be flying the flag with for Romania in Oslo. The show was beset by a few problems, most notably some of the telephone system crashing, but the result was never in doubt. Olsen Brothers, the Danish Eurovision winner from 2000 was a guest star.
Sixteen songs competed for the right to sing at the Telenor Arena in Oslo tonight. Former finalist Luminita Anghel was perhaps the most famous name competing tonight, but a few sound problems ended any chance she had.
The crowd was enthusiastic for each song, performed in a studio at TVR in Bucharest. The stage was in an arena format, which suited the whole production. After we'd seen the songs, guest stars the Olsen Brothers performed a small set, this being ten years since their win in Stockholm. Among the songs they sang were Walk right back and of course Fly on the wings of love, still surprisingly fresh after all these years.
Playing with fire won, scoring the maximum combined points from both the national televote, and from the seven regional juries.
Playing with fire – 24 pts
Save their lives -16 pts
Around around – 16 pts
Come as one – 14 pts
It's not too late – 13 pts
Come along – 11 pts
Surrender – 5 pts
Lay me down – 5 pts
Baby – 5 pts
Jack Pott – 5 pts
I'm running – 1 pt
Crazy – 1 pt
Running out of time – 0 pts
Love is war – 0 pts
Searching for the perfect emotion – 0 pts
See you in heaven Michael – 0 pts