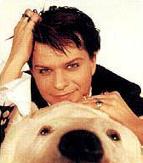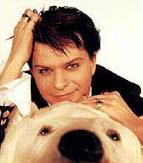 Who can forget the mesmerizing stage show that Páll Óskar gave us when representing the saga nation in 1997 with Minn Hinsti Dans? Many fans are adamant that the entry was way ahead of its time, and, although only reaching a disappointing 20th place, the exposure Páll Óskar gained propelled him to international stardom.
Since bursting onto the Icelandic music scene in the early 90's, Páll Óskar, or Pálli as he is affectionately known to many Icelanders has managed to build up a career as one of the stalwarts on the music scene of this small nation. Since his appearance at the 1997 Eurovision Song Contest, the artist has maintained links with the show, competing as recently as 2008, when he went to Belgrade as co-author of the Eurobandið classic, This Is My Life, taking Iceland to the final for the first time since 2004.
Speculations have abounded as to whether Pálli will have another bite at the cherry, and comments from none other than Jón Þór Birgisson, singer with the critically acclaimed group Sigur Rós, have merely added fuel to these speculations. The singer is reported to have said that he'd "love to see Páll Óskar compete for Iceland at Eurovision again", and that he basically already has a song prepared for Páll Óskar to compete with at the Söngvakeppni Sjónvarpsins 2011.
Although Birgisson's name isn't among those on the list of composers Who have qualified for the national final published by state broadcaster RÚV, the song could well have been composed in collaboration with someone else. Here's hoping that 2011 sees a return for the king of Icelandic pop music!
Links
Páll Óskar on Myspace
Official Söngvakeppni Sjónvarpsins website (not open yet)