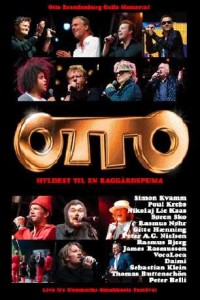 Danish singer, Otto Brandenburg, who participated in national selections in both Denmark and Sweden, died in 2007. A memorial concert has been released as a combi pack that includes a DVD with the full concert and a documentary plus a CD including 12 of his songs in a special stereo mix.
Otto Brandenburg was a popular singer and actor in Denmark famous for achieving 0 points in the 1960 Dansk Melodi Grand Prix with the song To Lys På Et Bord, a song that afterwards became the best selling single from that year and brought him enormous success in home country Denmark. Two years later he participated in the Swedish national selection with the songs Lolo Lolita and Anneli that came third and fourth.
In the summer of 2008 a memorial concert was held as a tribute to Otto Brandenburg's long career. Various popular artists contributed with their very own version of his songs. The full concert has been released on a DVD including a documentary and a CD with all 12 songs from the concert made in a special stereo mix.
Track list:
1. Vocaloca – Når Lygterne Tændes/Æselsangen
2. Sebastian Klein – What Do you Want to Make Those…

3. Peter A.G. Nielsen – To Lys På Et Bord
4. Simon Kvamm – Alle Sømænd Er Glade For Piger
5. Rasmus Nøhr – Når En Sailor Går I Land

6. James Rasmussen – Natten Drog Forbi
7. Thomas Buttenschøn/Gitte Henning – En Lille Dumhed
8. Nikolai Lie Kaas/Rasmus Bjerg –  Søren Banjomus
9. Poul Krebs/Per Frost – Noget Om Billigrejser
10. Daimi/James Rasmussen – Venter Du På Noget
11. Peter Belli – Buena Sera
12. Søren Sko – Så Længe Skuden Kan Gå