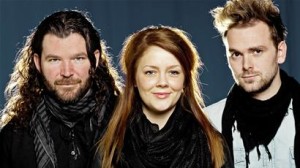 Hours after the 10 songs for the 2012 Dansk Melodi Grand Prix were presented it appears like one of them is out on the internet – and has possibly been available since July – if that is the case it will be disqualified as that goes against EBU's rules. DR has not yet commented on the situation.
The song that was found online by fans Thursday afternoon is titled Nowhere and the artist mentioned to be Tine Lynggaard. An artist by that name will be singing a song by the same title in the 2012 Danish final. A coincidence or is it the same song?
That song is currently available on MusicXray, which uploaded it in October, but as fans have noticed then a tweet at Tine's own Twitterprofile mentioned that a full version of the song Nowhere was available on Facebook and Youtube. The song has been deleted from those places since then and shortly after fans noticed it the twitter message disappeared as well, but according to fans the message wrote: "Full version of Nowhere is uploaded! :)" and was made at 8:39 AM Jul 18th via Facebook. The note on Tine's official Facebook site has been deleted as well after fans started talking about it. A screenshot of it do exist however.
If the song was published before the 1st of September it will be breaking EBU's rules and as such it can only be disqualified if the information about the July release is correct.
The song is written by Søren Itenov, Christoffer Stjerne and Tine herself – you can read more about all the 2012 Dansk Melodi Grand Prix in our article from earlier today. EuroVisionary will of course keep you updated on the situation.