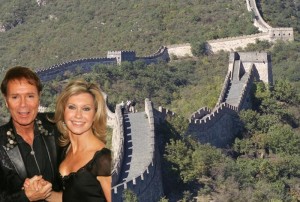 To support the Olivia Newton-John Cancer and Wellness Centre various famous people are walking along the Chinese wall. Among the sponsored walkers are two previous Eurovision participants, Olivia herself and Sir Cliff Richard.
"The Great Walk to Beijing 2008" that last 23 days and collects money for the Olivia Newton-John Cancer Centre started yesterday. It is 228 kilometres long and sir Cliff Richard and Olivia Newton-John will be walking together with names such as Diane Heavin, Danii Minogue, Ian Thorpe and Joan Rivers.  
For Olivia Newton-John who came fourth in the 1974 Eurovision Song Contest with the song Long live love this is a very personal project as she was diagnosed with breast cancer 15 years ago. She got her diagnose just two weeks after her father lost the battle against cancer, so even if she survived she knows exactly how horrible this deadly disease is and how important it is to undergo treatment rather soon. When asked why she is doing this walk she says: I am so excited and motivated to be doing this walk on the Great Wall to raise money and awareness for my Cancer and Wellness Centre in Melbourne. I will be walking for the friends I have lost and for many others who are engaged in their wellness journeys and she continues, When people sponsor me they help build the Olivia Newton-John Cancer Centre – it's the Centre I dreamed of when I was going through cancer.  
 
When asked about his participation Sir Cliff Richard says that Olivia is so committed to the building of the Olivia Newton-John Cancer Centre in Melbourne, that for me it's a privilege to play a tiny part in its development. Although he is known as being quite an enthusiastic tennis player Cliff seems to know that he is not in the best physical shape as he answers that he wants to walk alongside the slowest person and relax by reading a book in a hot bath afterwards!
By the time of writing sir Cliff Richard, who came second and third representing the United Kingdom in the Eurovision Song Contest in 1968 and 1973 with Congratulations and Power to all our friends, has a total of 117 personal sponsors. The person behind it, who will also be walking the entire 228 kilometres, Olivia Newton-John, to many people mainly known for her role as Sandy in Grease, has at the moment a total of 451 personal sponsors.
EuroVisionary will encourage our readers to be a sponsor on this important project. We will provide you with two donations buttons – one for Olivia Newton-John and one for Cliff Richard. EuroVisionary will of course be sponsoring all the money you choose to donate. You can donate by clicking the buttom in the box at your top right side.
Links