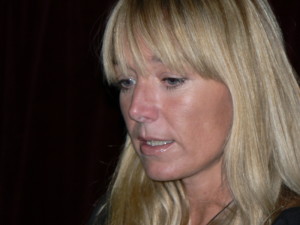 Lonnie (Devantier) Kjer represented Denmark at the 1990 Eurovision Song Contest. Songwriters, her record company and her manager were fighting and the 17 year old girl was scared away. 18 years later she is stronger, more mature and ready with an album in the soft rock style she likes the most.
Lise Haavik and Lonnie "Devantier" Kjer were special guests at the Danish OGAE convention on 1st of Novmeber 2008 held in Odense.
Here is Lonnie's story:
Lonnie, who uses the last name Kjer nowadays, was only 17 years old when she won the Dansk Melodi Grand Prix and went on to representing the Danish red and white colours in Zagreb. She felt that a lot of decisions were taken without her even being asked and as the whole crew behind her more or less all started fighting she was left too much alone. The songwriters couldn't stand each other and ended up all staying back home in Denmark. Her manager also decided not to go and with no record company either Lonnie and two dancers were the only ones to go to Zagreb. "I think everyone was fighting with John Hatting, but I have never had any problems with him. Had it been like it was suppose to be, him and I could probably have made a good album and when it comes to clothes I think I should have listened to him as he wanted me in jeans that matched my age – but ok, then I would not have been known as the girl in the orange dress!"
Being 17 years old, inexperienced and a bit naïve Lonnie was an easy target to the journalists. Without her family and her crew to lean at in Zagreb Lonnie was lonely and looking for friends – the journalists needed stories and got them from the young girl who had not received any advise on how to handle the press, what to answer and more importantly which questions were ok not to answer. "A journalist from that time has afterwards said to me that getting good stories from me was like stealing candy from a 5 year old child – and he was probably right!"
For Lonnie it was a dream come true when she won the Danish final and despite everything then she does have some nice memories from the experience, although it all became too much for her. When Lonnie returned home from Zagreb she went back to school, where she recieved a warm welcome the entire school. Despite the nice decoration and the many gifts, she just wanted it to be tuesday again. She wanted to leave the Eurovision Song Contest behind and for many years she has refused to take part in anything related to it.
The 34-year-old Lonnie that Danish fans met yesterday is a strong woman who has recently released an album in the rock style she likes. She is self-confident and knows her own value. All of the songs on the album are written by herself and she stands 100% behind it all. It is a self-financed album released on a small label, but for Lonnie it is what she wants. The things that happened in 1990 have made her stronger and she has also come to terms with the fact that it is ok to be remembered as a Eurovision Song Contest participant, she is no longer trying to run away from it. "I thought that if I just waited five years people would have forgotten about me, but that didn't happen. Then I waited another five years, but people still remembered me! It has taken me many years in trying to make people forget until I realised that I don't have to do so. Now I can see it as something positive that I was in Eurovision and even with a song that is remembered as a good Grand Prix classic."
As a bit of a coincidence then it is another Danish final that brings her to term with it: "I stayed out of the media until my good friend Christian Bach asked me to write a song for him to send in to Dansk Melodi Grand Prix. I did so, and was very surprised when DR called and said that it had been selected for the Danish final. I was so scared to be back in that circus that I didn't show up for the first press conference. Later I found out that it was ok, that there was nothing to be afraid of. It was so much fun in Aalborg at the Danish final and I am glad I did it. It made me see that it is what I have to do; stand behind it and don't run away."
Lonnie recently released her album called Tæt På. It is the soft rock style, which she likes and she is proud of the album. She reveals that she has sent in several songs to the Danish 2009 selection and will continue to do so in the future – as a songwriter. When asked if she wants to be on stage again she says: "I don't think so, but of course I never know. One thing is to stand in the livingroom singing the song and thinking it could be a lot of fun. Being on stage is something totally different."
When asked about which of songwriter John Hatting's two Eurovision entries (Hallo Hallo from 1990 and Du Er Fuld Af Løgn from 1986, ed.) she would have prefered to sing had she been able to choose, she answered that she would have preferred Lise Haavik's Du Er Fuld Af Løgn.
Pictures of Lonnie from the Danish OGAE convention can be found in our photoalbum. 
Links