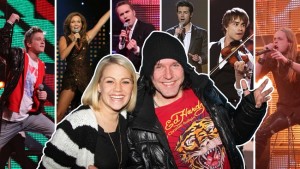 This year's qualification heats broadcast from Ørland, Skien and Florø, as well as the Last Chance round and the grand final will give fans the opportunity to see some of their past Norwegian favourites on stage once more.
NRK really intend to push the boat out this year, when votes are pouring in from across the entire country. Interval acts can soon become tedious affairs, but broadcaster NRK is promising viewers a spectacular show, with artist collaborations that are either madness or pure genius! The interval act of this Saturday's show from Ørland will see one time winner Alexander Rybak entertain the public alongside one of last years Melodi Grand Prix entrants, Keep Of Kalessin. Guitarist of the band, Arnt O. Grønbech is currently in Ørland rehearsing and thinks that their number will "lift the roof off the aircraft hangar in Ørland, much more than the last time we appeared here". The song they are to perform is completely new, and has never been performed live previously.
The second heat from Florø on the 22nd. of January will see dab hand Alexander Stenerud together with previous Eurovision entrant Guri Schanke, as well as the regular NRK backing singers in sweet harmony. The last qualification heat from Skien on the 29th. of January will feature pop comet Bjørn Johan Muri alongside Didrik Solli-Tangen as the interval act. An unusual combination perhaps, but according to Didrik, the rehearals for the two have gone extremely well, although the duo are reluctant to reveal the song they are to sing.
This year's Last Chance round from Sarpsborg on the 5th. of February is to see an equally odd partnership – none other than flamboyant Wig Wam and fan favourite Maria Haukaas Mittet (aka Storeng). The duo will also perform a brand new duet for the occasion, and vocalist Åge "Glam" Sten Nilsen promises a number unlike anything you've heard from the two before. Maria enthuses about her duet partner: "He's one of Norway's best male vocalists – there are few who can reach the high notes like Åge. Besides, he's so dedicated and disciplined, this is going to be so cool!"
Project manager for this year's Melodi Grand Prix Skjalg Solstad is thrilled with the concept and not least with the featured artists. "Melodi Grand Prix is like one big happy family, and there's nothing better when favourite family members you haven't seen in a while come to visit", he says. "It's so exciting to see such diverse artists, all of whom have such a soft spot for Melodi Grand Prix, meet in new collaborations, and I for one can't wait to see the reactions of the viewing public to this! I can guarantee both many suprises as well as an amazing atmosphere."