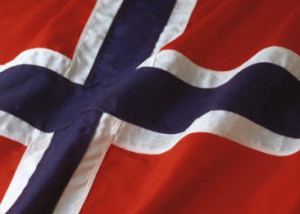 A mere month after the final of the Eurovision Song Contest 2010 was held in Oslo, Norwegian broadcaster NRK has started it's search for Didrik Solli Tangen's successor and the Norwegian entry for 2011. There are indications that NRK have every intention of continuing with same format they have employed for the last few years.
Semifinals will most likely be held in various locations around the country as well as a 'Second Chance' round and the selection process will culminate in a grand final. The deadline for admitting any contributions is set for the 15th of September. The competition will be an open selection process, whereby anyone can send in an entry a contribution, NRK reserve the right however, to be able to select the final competing artists. In addition to an open field, NRK will be inviting specially selected artists to participate, thus ensuring a broad spectre of musical genres and hopefully maintaining a certain level of quality. They certainly have their work cut out for them, making 2010 a tough act to follow, having won an award for the best national final of 2010.
Per Sundnes is, as expected, still in charge of the project, and he too has specific hopes and requests for any potential participants. Amongst other things, Sundnes is extremely keen to see more Black Metal artists represented in the national final, following last year's success of Keep Of Kalessin. He also goes on to say to NRK that he would love for previously successful Norwegian artists to use the Melodi Grand Prix format as a base from which to launch their comeback. Sundnes even goes on to mention specific artists by name, such as Erik Faber, Soda, Baba Nation and Stella Getz as well as telling how he'd also love to see artists similar to Alexander Rybak taking part in future national finals.
The selection of those contributions which have made the grade will be completed at some point during September. As opposed to the selection process of RÚV, performing an entry in Norwegian is no prerequisite, and authors of any nationality can participate. Both NRK and Sundnes stress however that they hope and expect a majority of Norwegian composers to be represented in next year's final, as for example opposed to the final in 2004, which was practically overrun by Swedish composers, something that did not go down too well with the Norwegian public.
In my view
Next year's representative will hopefully go on to fare decidely better than Didrik Solli Tangen's rather underwhelming and extremely dissappointing 20th placing with My Heart is Yours. And, for the record, let it be known that the practically national obsession of outdoing our dear neigbour Sweden is still very much alive and well!

The opinion expressed in "In my view" are those of the author and are not necessarily the one of EuroVisionary.com.