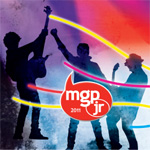 Preparations are well underway for the up and coming final of the Norwegian Melodi Grand Prix Jr. contest, due to take place on the 3rd of september in Oslo Spektrum. The number of entries submitted was surprisingly high, with no fewer than 568 potential winners sent in to state broadcaster NRK.
Norway however will not be competing in the official Junior Eurovision Song Contest this year which is due to take place on the 3rd of december in Yerevan, Armenia. The concept was started on the initiative of DR (Danmarks Radio) in 2002 as a Nordic edition of the popular music event for youngsters. The reason Denmark, Sweden and Norway arranged the Nordic edition of the contest was a protest against the way in which the young contestants in the international version were treated. Sweden has returned to the fray but Denmark and Norway have since declined to participate.
The concept of Melodi Grand Prix Junior proved to be such a success for NRK however that they decided to retain the format and arrange a show each year regardless of international participation. This year, there are 10 hopefuls in the line up of the grand final:
Sol (12 yrs) Kom Tilbake (Come Back)
Sval (12 yrs) Trenger Deg (I Need You)
Kristin (11 yrs) Alltid Være Barn (Always Be A Child)
The Sugarsmokers (12 yrs) Fåkke Lov (Not Allowed)
Nordlyset (13 yrs) Ikke Gå Ifra Meg (Don't Leave Me)
Seven Be (12 yrs) Et Fett Liv (A Cushy Life)
Erlend (14 yrs) Ta Det Som Det Kommer (Take things As They Come)
Tiril (14 yrs) Du Planter Et Smil (You Set Off A Smile)
Emma (11 yrs) Don
Lina (12 yrs) Klatre Steg For Steg (Climbing Step By Step)
This year's finalists represent areas from all across the country and span all ages from 11-14 (NRK stipulate that you have to be between the ages of 8 and 15 in order to compete). No Scandinavian final is scheduled for this year. To find out who will be this years successor to last year's winner Torstein with Svikter Aldri Igjen (Never Let You Down Again), the show will be broadcast on NRK. As in previous years' editions, four contestants will move forward to a super final based on votes. Voting results however will not be revealed, as NRK deems this as demoralising for the youngsters participating. Out of the four competing acts in the super final, only the winner is announced, with the remaining three acts sharing joint second place.
Links