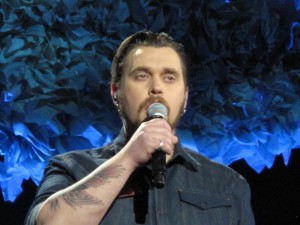 The Norwegian preselection has been gathering momentum over the past week and culminated this evening with the grand final from Oslo Spektrum. Nine acts waited nervously in the wings until their time came to take to the stage and shine. It was Carl Espen who emerged victorious from tonight's superfinal and will carry the hopes of Norway to Copenhagen.
The introduction of a new format for this year's edition of Melodi Grand Prix in Norway has not gone unnoticed. NRK have come under fire from both former participants and press alike, claiming that they are in the process of changing the selection process beyond recognition. The argument is backed up by the fact that NRK have experienced a significant drop in viewing figures (on average 600,000 viewers have tuned in to watch each heat). However, many more songs in each heat have actually garnered significantly more airplay than entries from previous years, perhaps due to the fact that this year's entries are indeed much more relevant with regards to todays musical trends. In accordance with tradition however, the focal point of Norway tonight is once again Oslo Spektrum, where in a matter of hours we will soon know who is to make a hop, skip and a jump to Copenhagen and attempt to improve on Margaret Berger 's fourth place from last year with I Feed You My Love.
The songs:
01: El Cuero – Ain't no Love (in This City No More) (Music & Lyrics: Brynjar Takle Ohr, Øyvind Blomstrøm og Håvard Takle Ohr, B.L. Rolland)
This year's final gets underway with a dynamic number performed by the Kristiansund rockers, El Cuero. Every Norwegian final in recent years has featured a token rock number and this fits the bill perfectly. Ain't No Love (In This City No More) emanates energy, is dynamic and is a seriously credible piece of rock confectionery. Their stage backdrop features their band name in huge blue letters. The stage is dark with brief flashes of light before the stage is lit up. Singer Brynjar Takle Ohr backed up by his band colleagues really comes to life on stage. They have an immense drive about them and their look reflects their sound perfectly – rough and ready, leather jackets, denim, everything you'd expect from a proper rock band. It's easy to see why the band are a favourite with the critics, as they gave a stellar show tonight, with some fantastic vocals from Brynjar.
02: Elisabeth Carew – Sole Survivor (Music & Lyrics: Elisabeth Carew, David Eriksen, Simon Climie, Mats Skåre Lie)
Elisabeth Carew is next up and the contrast couldn't be bigger. She is wearing the same shimmering green floor length dress as in the final. With her to the stage she brings a lot of glamour. She has a kind of lightbulb catwalk in front of her and is accompanied by six dancers, wearing a minimum of black clothing. Elisabeth has been part of MGP before and her vocals have improved markedly since then. This is perhaps the closest we'll get to hear of the more traditional, formulaic MGP entries tonight, but that's no bad thing. This is melodic, has a great beat and is oh so hummable and easy to remember. Tonight Elisabeth came across as assured, comfortable and extermely at ease in front of the camera with some great sweeping aerial views of the stage. Her vocals would give Beyoncé a run for her money anyday, as this is an extremely difficult song to sing.
03: Knut Kippersund Nesdal – Taste of You (Music & Lyrics: Magnus Hængsle, Jenny Moe)
Fresh faced Knut has built up quite a following here in Norway lately, and it's easy to see why. He glows while on stage – a genuine joy of performing in front of the enthusiastic audience shines through. He may not be so well known yet, but already the press are predicting a fantastic career ahead of him, and he's off to a fantastic start, having just been signed to Universal records. He has kept many of the same elements from his previous performance in his final stage show; the lighting, the moves and sweeping gestures and of course his outfit, a sapphire blue bolero jacket paired with black pants. The sweeping light beam formations came across stunningly on screen as did the circular shots of Knut. The curtain of sparks that came flooding down as he launched into his key change was a nice touch. His song had a touch of A-ha about it, synth heavy with a glorious 80's feel and Knut also has a hint of Morten Harket about his voice. The stage was bare, letting only Knut's voice speak for itself. A dynamic performance. 
04: Dina Misund – Needs (Music & Lyrics: Frode Bjørgmo Strømsvik, Dina Misund)
This cutesy, country tinged little number has an amusing story. We were told that Dina usually comes up with the melody first and then she locks her partner Frode up in a room until he has come up with a text. Whether or not he has written tonight's entry under duress is debatable, but what we have here is something different from the rest of the line up tonight. Mature, elegant, simple and stripped, Needs is a delightful, rolling breather in the hectic, fast paced show we've experienced thus far. Dina is wearing the same dress as in her qualifying heat – an elegant little black number with glitter, making her guitar look quite out of place. Her voice was deliciously fragile with that recognisable country twang to it. The stage was mainly black, pierced by orange spotlights and rays as the backdrop. Dina stood in a circle of white spotlights as she looked intently into the camera. This is a such a sweet little number, but regrettably it will probably drown in the mass of slickness that the other acts are showing tonight. She would be a lovely suprise to have in the super final, though.
05: Mo – Heal  (Music & Lyrics: Laila Samuelsen)
Mo is next up, and this is something of a hybrid; he has a similar if not more androgynous look than Tooji, and in terms of tune shares a lot of features with the 2008 winner, Dima Bilan's Believe. He takes to the stage wearing a cowl, and a black jacket as dry ice floods the stage floor. The backdrop is dark as the camera rotates around him before it bursts into light with columns of white. With him on stage he has a number of dancers similary attired to extras from Mad Max the movie and that at times looked more like the Hindu goddess Shiva, ie. quite a lot of arms all over the place. Despite the title, Heal is anything but a soothing, fragile ballad. It has quite a cold, manufactured, mechanical sound and is one of the more slickly choreographed entries of the evening. The meoldy itself keeps churning, keeps threatening to take off but never does. Mo gets quite excited as he launches into the final chorus, calling out to the audience in Oslo Spektrum. He got a huge reception in the hall.
06: Linnea Dale – High Hopes (Music & Lyrics: Linnea Dale, Kim Bergseth)
And now the successor to Margaret Berger is up, Linnea Dale with her chilly, Nordic slice of electronica. Linnea beams and her porcelain features and raven hair are set off to perfection against her shamrock green figure clinging dress, the same one she wore in her qualifying heat. With her on stage she has the same two pairs of dancers dressed in rococco dresses and military uniforms. Her vocals are spot on; controlled and crystal clear with a delicious, husky side to them and plenty of depth. This would be another untraditional choice for Norway – dark, ever so slightly menacing and mysterious. Linnea's stage show is lut up with orange glows appearing from time to time keeping in time with the driving, pouding rhythm as the dancers perform various graceful moves in the background. Linnea sends some great, coquettish looks into the camera that will probably help her get quite a number of votes from those watching.
07: Charlie – Hit Me Up (Music & Lyrics: Melanie Fontana, John Asher, Lars Hustoft)
Young Charlie is responsible for the most bubblegum sound of tonight's entries. Hit Me Up is bright, punchy, catchy and youthful and screams radio hit. She is wearing a metallic coloured tutu like creation complete with ruffles and a basque top in the same colour. With her on stage are two energetic female performers who set off her zappy, bubbly stage show a treat. She begins with her back to the audience looking and beckoning directly into the camera. Her dancers are dressed in Cheryl Cole reminiscent outfits in black and white. The trio use the stage well, with plenty of moves, mainly by the dancers, although there is great interaction between them and Charlie  This has zip, youthfulness and is a highly contemporary sound and Charlie actually delivers this note perfect, which was rather surprising. 
08: Carl Espen – Silent Storm (Music & Lyrics: Josefin Winther)
And now the pressure is on. The favourite of the evening Carl Espen takes to the stage with an intriguing backdrop. New since his first performance is the introduction of a string quartet to his right at the side of the stage on a raised platform. With him on stage, Carl Espen has a pianist and a timpani drum player with him, as he stands there in a casual denim shirt, his hair slicked back. The bizarre feather like creation is hard to make out – either a seagull's wing or a cloud. Either way, it looks out of place. We got to know that he has previously worked as a bouncer; you'd never have guessed it by listening to him tonight as he gave a very vulnerable, heartfelt performance that came across very well in the camera. There was a stunning ambience on stage made by the use of fanning blue rays and dry ice. If there were to be any criticism, it was that he lakced a little intensity when reaching out to the camera. The tune itself as well as the vocals were hauntingly beautiful with a sentiment that many will be able to relate to. 
09: Oda & Wulff – Sing (Music & Lyrics: Christer Wulff)
Oda & Christer are the final act of the evening and what a fantastic way to bring this evening's final to a close. Oda & Wullf have bags and bags of charm as the male singer Christer (Wulff) bounds on stage first dressed in a grey waistcoat, white short sleeved shirt and black pants. With him he has a number of musicians and ditto number of platforms; the platforms look quite untidy, if truth be told. Oda comes on shortly after in a peach coloured dress, the same she had on in their heat. The two have fantastic chemistry together; their performance is fun, inviting everyone to sing along to this banjo laden piece of pop/folk candy. Ther is a fabulous contrast between the pair's voices; Christer's slightly nasal sound and Oda's sugary vocals. They also make fantastic use of the stage, walking out on to the small podium at the front of the stage, as quite a number of other acts have done tonight with a burst of confetti as the brass instruments round off the rousing number.  
The show:
The contest opens with a spoof, which is actually rather funny and is a dig in the ribs at the criticism that has been aimed at NRK recently, claims that the press has "destroyed" the Melodi Grand Prix formula by stripping away too much and making too many changes. It featured a number of former MGP participants; Jørn Hoel who came second in 1985 with Inkululeko, 2010's Didrik Solli Tangen and Åge Sten Nilsen, vocalist with Wig Wam who represented Norway in 2005 with In My Dreams, with hosts Jenny Skavland and Erik Solbakken on the hunt to find out what has happened to the glitter and sequins.
A young boy called Ludvik features centrally in the plot and creates the transition from screen to stage. The stage is almost identical to what we have seen in the qualifying heats – an array of black and white, columns of lightbulbs to the rear of the stage with many spotlights and pyro as the hosts Erik Solbakken and Jenny Skavlan enter the stage. Jenny is extremely easy on the eye, wearing a stunning black creation with much beadwork on the straps and the top of the front. Erik was very suavely attired as ever in a classic tuxedo.
The green room is located in front of the stage and in fron of the audience, so that the artists can feel the atmosphere and ambience. Three of the younger acts tonight, Knut, Charlie and Linnea were interviewed briefly by the pair of hosts. 
Last years winner Margret Berger returned to where her adventure all began and was in fine form tonight, giving fans a performance of her latest single, Scream. One of the writers behind her entry, Karin Park also came to perform her latest single, Look What You've Done, before the two join forces on Margaret's triumphant winning number, I Feed You My Love.
Stella Mwangi was the first to read up the votes from the Eastern region of Norway, with Mo coming out on top. Jørn Hoel was back to announce the votes from the North of Norway, with Carl Espen gaining a lead by a thousand votes or more so far. Maragret Berger read the votes from Central Norway, with Carl Espen once again getting the most votest. Helene Bøksle, 2011 MGP finalist announced the votes from Southern Norway and Linnea Dale gained the most votes. 2006 winner Christine Guldbrandsen read out the votes from Western Norway with Carl Espen getting top marks and a somewhat gobsmacked Carl Espen winning tonight's contest. 
The voting:
Lines were opened since the first act opened the show. During the voting, we were to treated to a review of Norwegian Eurovision history, featuring many of the highs, lows and not to mention the scandals, such as when the 1991 final was cancelled because the submitted songs were of such a lousy standard. The four top scoring acts from tonight's final were decided by televoting. The four that advanced to the superfinal were announced in random order and were : Knut Kippersund Nesdal, Carl Espen, Mo and Linnea Dale. After the first two acts, we were reunited briefly with 2011's Stella Mwangi and 1986's second placed Norwegian finalist Jørn Hoel (the guy who featured in the intro). Once all four had reprised their numbers, lines were opened once more. Televotes were collated and presented from the various regions of Norway – there were no jury votes in this year's final.  
Norway at the Eurovision Song Contest:
Norway made its debut at the Eurovision Song Contest in 1960 with Nora Brockstedt performing Voi-Voi and ending up with a highly respectable fourth place. More often than not the joke at Eurovision with an unbeatable eleven last places, this hasn't stopped Norwegians from embracing the contest wholeheartedly. The seventies and early eighties were like a wasteland in terms of results with Norway having to wait until 1985 for their first win with Bobbysocks and La Det Swinge. A few more lower placings followed before Norway seemed to be on a roll, starting in 1993 with Silje Vige and Alle Mine Tankar, before winning once again in 1995 with Secret Garden and Nocturne. Their second win was not without controversy, as the lyrics consisted of just 24 words.
On home ground Elisabeth Andreassen managed a second place with I Evighet before Norway returned back to form in 1997 coming last yet again with Tor Endresen and San Francisco. Their third win in 2009 however, is the biggest win in Eurovision history, earning Alexander Rybak 387 points for his entry Fairytale, which went on to become a pan European hit. 2014 will see Norway perform at Eurovision for the 53rd time.