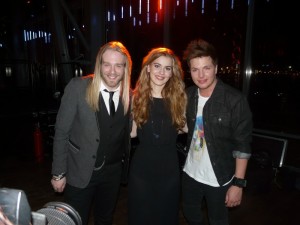 The night club Glasklart was Saturday night the place to be. Nordic Night featured all five Nordic acts and a lot of artists from other countries were present as well. 
Not many footsteps were taking before the invited press met one of the Nordic hostesses. The Finnish bride, Krista Siegfrids, stood in the door to greet all guests, and a lot of people were asked to marry her.
Later came the participants from the other four Nordic countries – Emmelie de Forest, Eytor Ingi, Margaret Berger and Robin Stjernberg – and a lot of other delegations were present as well. Natália Kelly, Klapa s Mora, Dina Garipova, Aliona Moon, Ryan Dolan, PeR, Valentina Monetta, Esma & Lozana, and Moran Mazor among others.
The guests were treated with a small plate of food, drinks and vine – and of course performances of the five Nordic entries in this year's Eurovision.
First on stage was Krista. She seems to have a new wedding dress for each ocation. She of course sang "Marry Me" but also gave her version of Carola's winner from 1991 – "Fångad av en stormvind". And Krista's choreography was very much like the one Carola had back in 1991. Even the wind machine was there, although a "human one".
Next on stage was the Norwegian entrant Margaret Berget. She gave a stunning performance of "Feed You My Love". She was followed by Eytor Ingi from Iceland. He performed "Ég á lif" and "Somebody to Love" (originally by Queen).
After Iceland the young Emmelie de Forest from Denmark came on stage. She gave a beautiful version of "Only Teardrops"-  in bare feet – accompanied by the three songwriters Lise Cabble, Julie Fabrin Jakobsen and Thomas Stengaard. They were playing guitar (Julie and Thomas) and melodica (Lise).
Last to perform was the charming Robin Stjernberg representing Sweden.
A lot of press was present as well, and as the biggest favourite at the moment, Emmelie de Forest from Denmark, was surrounded by camera crews all night. Including ones from BBC (United Kingdom) and ERR (Estonia).
After the five performances the DJ played Eurovision music rest of the evening.