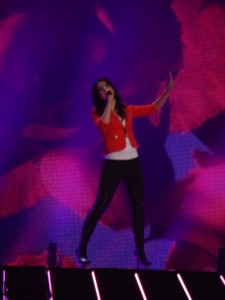 Maja Keuc demonstrated her powerful vocals performing No One at the 2nd rehearsal for Slovenia.  Maja's show was also complemented by her backing vocalists making an all round great show.
Maja was joined on stage by 4 girl backing vocalists.  They were all casually dressed but still looked great wearing trousers and jeans and t-shirts.  Maja and the girls did not wear their costumes that they will be wearing for the semi final on 10 May.
The background included purple flowers  and then brightening to red.  It looked good on stage and should be very effective on tv.
There was one minor fault with the microphone in the 2nd run through but everything else was perfect.
Maja and her team together with the lighting should make a perfect show and be very easy on the eye.