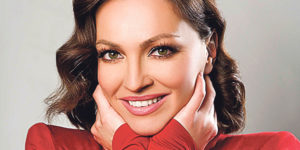 Hrvatska radiotelevizija have put their faith in Nina Badrić. Thereby she becomes the fifth Balkan participants to be chosen internally this year. The Croatian Eurovision Song Contest entry will be presented at the second show of Dora to take place in March.
Hrvatska Radiotelevizija, the Croatian public broadcasting system has confirmed that Nina Badrić will represent the Balkan state in Baku. Nina Badrić was chosen internally just as some other Balkan representatives like Maya Sar (Bosnia & Herzegovina), Kaliopi (FYR Macedonia), Željko Joksimović (Serbia) and Rambo Amadeus (Montenegro). 
The
Croatian entry will be announced at Dora in March. This year's
Dora will consist of two shows. At the first show, the previous Dora
winners will perform their songs which they have represented the Balkan state at the previous Eurovision Song
Contest editions. Also, at the first 2012 Dora show, the audience
will decide which is the best winner song of the last nineteen
editions. At the second gala, HRT will announce the entry that will be
performed by Nina Badrić in Azerbaijan in May. 
Before
the official announcement of HRT, Nina Badrić commented on her
Twitter account that she would be the Croatian voice for Eurovision
Song Contest. Later on, the Croatian broadcasting system, confirmed
this news.
Nina
Badrić is well known e in Croatia, Serbia, Bosnia and Herzegovina,
Montenegro and Slovenia. She tried to win the ticket to Eurovision four times (1993, 1994, 1995, and
2003). Nowadays, Nina Badrić has ten albums behind her, NeBo being her
latest one.
In
2011, Daria Kinzer represented Croatia with Celebrate, which ended 15th in the semi-final, a result
that was not enough for qualifying to the final. Croatia have participated in the Eurovision Song Contest since 1993, where Put sang Don't Ever Cry, to a 15th position. During these years, the Balkan state have ended in top10 a total of six times.
Below you can see Nina's entry from Dora in 2003 where she came second with this song; Čarobno Jutro.