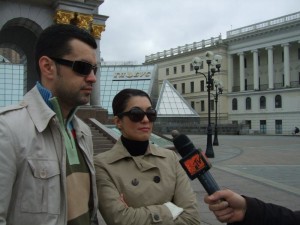 Nico and Vlad Mirita have finished their promo tour in Moldova and Ukraine.
Nico and Vlad Mirita, the Romanian representatives at Eurovision 2008 were in Moldova and Ukraine to promote their song "Pe o margine de lume" from 13th April until  17th April.  On the first day, they were in Chisinau (Moldovan capital) to guest on the TV show, "Epicentru"  from EuroTV channel. The fans from Chisinau asked them to come back for a big concert in the capital, and they accepted.
On the 14th April they travelled to Kyiv where they visited 1+1TV , MTV Ukraine , M1TV , 24TV , 1TV channels, and also such magazines as  : "Life as It Is" , "TV Guide " and "24" and radio channels : Nashe Radio and Radio Europa Plus.
The big event for them was the 2 hour press conference for the Eurovision website "e-motion"
They recived a toy from Maria Dashenko (Ruslana's Manager) which she said would bring them luck like Ruslana in Eurovision 2004. They gave it the name "Masha" and they promise to take it with them on the stage in Belgrade.