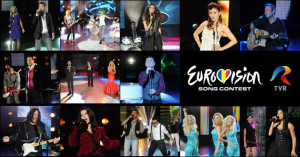 On New Year's Eve night, Romanians will vote on who will represent their country at the Eurovision Song Contest 2011 in Dusseldorf. It is the first time TVR (Romanian National Broadcaster) have held the selection for the Eurovision Song Contest on New Year's Eve. The special guest is Mr. Johnny Logan nicknamed as "Mr.Eurovision".
A jury of 11 members (composers, performers, professionals of Radio and TV) were selected on 9th of November at TVR, 13 songs were chosen from the 84 songs that were entered for the contest.
The National Selection will be held on 31st December at TVR Studios by the special presenters: Paula Seling and Ovi Cernauteanu (the duo who gave Romania 3rd place at Eurovision this year with the song Playing With Fire)
This year's special guest will be Mr. Johnny Logan originally from Ireland, the winner of three editions of the Eurovision between 1980 and 1992. Logan took first place at Eurovision with the songs What's Another Year? (1980), Hold Me Now (1987) and as a composer with the song, Why Me? (1992) sung by Linda Martin.
The National Selection will be broadcast live on TVR1 and TVR International.  Here are the 13 lucky contestants (in order of presentation) in the National Selection: 
1) ADI CRISTESCU – One by One (music & lyrics: Adi Cristescu)
2) DALMA – Song for Him (music: Liviu Elekes, Lyrics: Roxana Elekes) – NF 2008 and NF 2009
3) LETICIA -Dreaming of You (music & lyrics: Radu Bolfea, Sebastian Barac, Marcel Botezan)
4) SILVIA STEFANESCU – I Can't Breathe Without You" (music & lyrics: Elvin Dandel)
5) BLAXY GIRLS – It's So Fine (music: Costi Ionita, lyrics: Rucsandra Iliescu) NF 2009
6) CLAUDIA PAVEL -I Want You to Want Me (music & lyrics: Andrei Filip, Johan Kjell Fransson, Pontus Mats Assarsson, Mikael Tim Larso, Tobias Lundgren Lars)
7) LAURENTIU CAZAN – We Can Change the World (music & lyrics: Laurentiu Cazan)
8) DAN HELCIUG – My Facebook Girl (music & lyrics: Dan Helciug)
9) DISTINTO, IANNA & ANTHONY ICUAGU – Open Your Eyes (music & lyrics: Cristian Faur) – the composer of "Let me try" song 2005 Luminita Anghel and Sistem (3rd place at Kiev)
10) DIRECTIA 5 – Cinema Love (music: Marian Ionescu, lyrics: Andrei Hategan)
11) RALLSA – Take Me Down (music & lyrics: Alexandru Berehoi, Sergiu Gelu Ene)
12) HOTEL FM – Change (music & lyrics: Gabriel Baruta) NF 2009
13) MIHAI ALEXANDRU feat B-BODY AND SOUL – Bang Bang (music: Mihai Alexandru, lyrics: Japhet Niven) 
You can listen all 13 songs here:  http://www.tvr.ro/eurovision/index.php?id=92006&pagina=concurenti
 Here you can watch all 13 official videos :
 1) ADI CRISTESCU – One by One
www.tvr.ro/eurovision/index.php?id=92125&pagina=concurenti
2) DALMA – Song for Him
www.tvr.ro/eurovision/index.php?id=92124&pagina=concurenti
3) LETICIA -Dreaming of You
www.tvr.ro/eurovision/index.php?id=92130&pagina=concurenti
4) SILVIA STEFANESCU – I Can't Breathe Without You"
www.tvr.ro/eurovision/index.php?id=92123&pagina=concurenti
5) BLAXY GIRLS – It's So Fine
www.tvr.ro/eurovision/index.php?id=92126&pagina=concurenti
6) CLAUDIA PAVEL -I Want You to Want Me
www.tvr.ro/eurovision/index.php?id=92122&pagina=concurenti
7) LAURENTIU CAZAN – We Can Change the World
www.tvr.ro/eurovision/index.php?id=92120&pagina=concurenti
8) DAN HELCIUG – My Facebook Girl
www.tvr.ro/eurovision/index.php?id=92129&pagina=concurenti
9) DISTINTO, IANNA & ANTHONY ICUAGU – Open Your Eyes
www.tvr.ro/eurovision/index.php?id=92128&pagina=concurenti
10) DIRECTIA 5 – Cinema Love
www.tvr.ro/eurovision/index.php?id=92118&pagina=concurenti
11) RALLSA – Take Me Down
www.tvr.ro/eurovision/index.php?id=92127&pagina=concurenti
12) HOTEL FM – Change
www.tvr.ro/eurovision/index.php?id=92119&pagina=concurenti
13) MIHAI ALEXANDRU feat B-BODY AND SOUL – Bang Bang
www.tvr.ro/eurovision/index.php?id=92121&pagina=concurenti