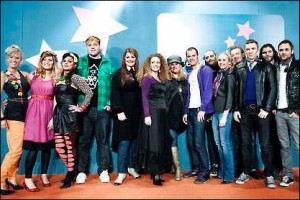 When the 2009 Dansk Melodi Grand Prix takes place on the 31st of January it will be with a new voting format where the winner will end up being on stage three times before he or she is awarded with the honour of representing Denmark at the Eurovision Song Contest in May.
Many things are going to be different in this year's Danish final, the Dansk Melodi Grand Prix. It is new that a whole city has been awarded as a so called Grand Prix city where various grand prix related events are taking place all over the city in the days up to the final. It is also new that Denmark for the first time opened up to foreign songwriters leading to Irish Ronan Keating writing a song and several Swedish songwriters trying their luck in the south neighbour country. New is also the fact that Danish broadcaster this year specially invited four of the ten participants to secure a higher quality and much wider musically spectrum.
The latest is that the voting format also will be different this year. For the first time a professional jury will be involved – although only in the first round. The Danish final will consist of three rounds:
All ten participants will perform their song which will be followed by the jury and the televoters voting on which four deserve to qualify to next level.
The four with most votes in total will be divided into two semi-finals, two in each. They will perform their song again and the televoters will decide which two, one from each semi-final should go to the super final.
In the super final the two winners of the semi-finals will perform one last time in order to convince the population who should get the ticket to Moscow. The winner is of course the one with most votes in this third and last round.
With this new format the winner of Dansk Melodi Grand Prix will be singing his or her song at least three times – four times if we add the traditional singing of the winning song at the end.
To fans the last two rounds in this format will be known from the second chance rounds in Melodifestivalen, the Swedish national selection.
We are seeing more and more countries adding a jury to their national selection just as it will be the case with the Eurovision Song Contest in May. It is quite unusual though that the jury only will get to vote on which four should go to second level.
The Dansk Melodi Grand Prix 2009 will take place in Herning on 31st of January hosted by Felix Smith and Danish Eurovision diva Birthe Kjær who represented Denmark at the 1989 Eurovision Song Contest and finished 3rd with Vi Maler Byen Rød.
Links