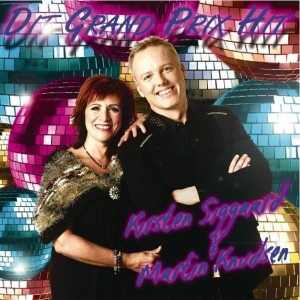 Three times Eurovision Song Contest participant Kirsten Siggaard has found herself a new partner in Martin Knudsen. Together they have released a single that gives away the recipe on how to write a Melodi Grand Prix winner. The duo is currently touring the country with a show that includes several Eurovision Song Contest songs.
The song, that is a cover of the Swedish song Värsta Schlagern by Markoolio & Linda Bengtzing, stays in the same theme as its original as it deals with the many stereotypes in particular Danish and Swedish entries have shown: The immediate start that builds up to the chorus with half a verse just before, the use of a lot of old phrases that "says everything and nothing", the title to be repeated over and over again, the famous key change and of course lyrics about love and happiness.
As it is a Danish version they have of course mentioned some things particular from Denmark like when Martin asks what else they need and Kirsten answers "a swimming pool you can fall in", which is a clear reference to the Danish final in 1984 where Kirsten pushed Søren into a swimming pool. Another example is the mentioning of a children choir, which Kirsten & Søren used in the 1985 Dansk Melodi Grand Prix. They end the song by concluding that if they still have problems they can probably get some help from Jørgen or Noller, Olsen Brothers, who won the Eurovision Song Contest in 2000 for Denmark with the song Fly On The Wings Of Love.
Kirsten Siggaard represented Denmark at the Eurovision Song Contest in 1984, 1985 and 1988 with her partner in music Søren Bundgaard. Their best placement was achieved in 1988 where they came 3rd with Ka' du se hva' jeg sa'?. Kirsten met Martin Knudsen in relation to his debut CD where she was asked to sing a duet with him. This has now spread to them touring the country with a show called Når Bare Musikken Swinger. The show includes Kirsten's Dansk Melodi Grand Prix entries as well as a tribute to Tommy Seebach, who also represented Denmark three times at the Eurovision Song Contest – and also was honoured with a tribute in this year's Danish final. 
CDON.com currently offers several CD's with Kirsten & Søren for a very low price 
The new single called Dit Grand Prix Hit can be bought on itunes. Below you can hear a little taster from it as well as hear the Swedish version in full.