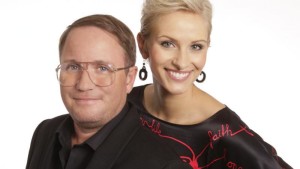 Talk about keeping it in the family! For the last two years, Marte Stokstad has accompanied Per Sundnes around the country during the run up to the grand final of the Norwegian Melodi Grand Prix.
However, due to the fact that Marte will be heavily pregnant at the time the MGP season gets going, she will be replaced by her younger sister, popular TV presenter Anne Rimmen. Marte has however asked to remain a part of the MGP show and so will be involved as a consultant behind the scenes. Anne states in an interview with tabloid Dagbladet, that big sister Marte is one of the main reasons she accepted the job. "It's not exactly my dream job, but of course, being able to work with such a massive production as this will be an exciting and fun experience. It'll be a major challenge and I'm looking forward to it". When asked if her older sister had imparted any words of wisdom in order to prepare Anne for the upcoming job, she replied "Ha ha, she hasn't given me that many yet. She's shared a few experiences with me, but I guess she'll help me prepare much more for the role as the time draws nearer".
"I'm looking forward to the whole package, working with this fantastic bunch of talented people, not least all of the artists, who I still know nothing about (who are yet to be announced). "I'm so proud to have been chosen for the job", Anne enthuses, and who says that her personal Eurovision favourite is Bobbysocks' La Det Swinge. When asked to comment the choice of co-host, Per Sundnes replies: "Oh, we're going to have a blast! Anne has all the necessary qualities that a Melodi Grand Prix presenter should have – a great sense of humour, heaps of glamour as well as the ability to be humble." The blond beauty is no stranger to Norwegian TV viewers, having previously worked as one of the more high profile sports presenters at NRK, and there's a Danish connection too – Anne was born and raised in Denmark, moving to Norway just before her teens!  
Details confirmed so far for the 2011 selection:
1st heat – to be held in Ørland, Saturday 15th. January
2nd heat – (venue to be announced), Saturday 22nd. January
3rd heat – (venue to be announced), Saturday 29th. January
Last Chance round – to be held in Sarpsborg, Saturday 5th. February
Grand Final – to be held in Oslo Spektrum, Saturday 12th. February