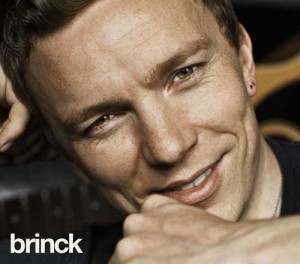 After winning the Dansk Melodi Grand Prix Brinck's debut album was re-released today in an updated edition including his entry for the 2009 Eurovision Song Contest. The new edition also included two other new songs.
Brinck's debut album simply called Brinck was originally released in May 2008, but after winning the Danish final a new edition of it has been released so that it features his Eurovision Song Contest entry Believe Again. As an extra bonus it also includes two other new songs; Someday which is not to be mistaken with Hera Björk's song with the same title which was giving Brinck a tough competition in the 2009 Dansk Melodi Grand Prix and The 1 which is an acoustic version of the Danish X-factor hit from last year, a song he wrote himself to X-factor winner Martin.
The album includes 15 songs and can be purchased via CDON.com who delivers worldwide.
Tracklist:
1. Believe Again
2. Close But Still Out Of Sight
3. Hurricane
4. In The End I Started (Theme song from Anna Pihl)
5. Someday
6. I Don't Wanna Love Her
7. Follow Your Dreams
8. Don't Give Up
9. Heaven's Close To Hell
10. It's Me Your Dancing With
11. Dig Out The Love
12. Love Me Or Leave Me
13. The 1
The Danish entry that is written by Lars Halvor Jensen, Martin Møller Larsson and Irish Ronan Keating will compete in the second semi-final of the 2009 Eurovision Song Contest.