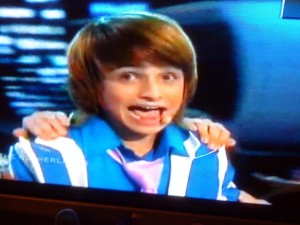 Congratulations to The Netherlands who won the 2009 Junior Eurovision Song Contest in Kiev. The voting was very close with the leadership changing several times between The Netherlands, Armenia, Belgium and Russia. But Ralf Mackenbach over took from Armenia and Russia to win when the F.Y.R. Macedonia voted last.
Ani Lorak and Timur presented the 7th Junior Eurovision Song Contest from Ukraine. Here is a review of the 13 songs –
1: Sweden – Mimmi Sanden Du – a very good start to the contest. This song would not be out place from the Swedish Melodifestival. Very confident performance from the 3rd member of the Sanden family to represent Sweden at the Junior Eurovision.
2: Russia – Ekaterina Ryabova Malenky Prints – a very catchy song with a strong chorus. This would surely do very well for Russia.
3: Armenia – Luara Hayrapetyan Barcelona – this was a lively performance from Luara and her dancers. This song is about Barcelona football club and Luara and her dancers were dressed in the Barcelona football shirts with a Junior Eurovision logo on the dancers shirts.
4: Romania – Ioana Anuţa Ai Puterea în Mâna Ta – a very sophisticated show from Ioana and her dancers. The song has an r 'n' b style. Very stylish.
5: Serbia – Ništa Lično Onaj Pravi – this has a very sing a long, happy feel. Very well performed.
6: Georgia – Group Princesses Blue Bird – a change of pace and a beautiful song from Georgia. This should also do well tonight.
7: The Netherlands – Ralf Mackenbach Click Clack – Ralf and his dancers gave a very polished show. The song has a memorable chorus and title. Everyone will remember this and this had to be a contender to win.
8: Cyprus Rafaella Costa Thalassa, Helios, Aeras, Fotia – a good performance from Rafaella. This song has some rock elements and was very well performed.
9: Malta – Francesca & Mikaela Double Trouble – another catchy song from Malta but I do not think this is strong enough to win this year. But Francesca & Mikaela really sang well.
10: Ukraine – Andranik Aleksanyan Try Topoli, Try Surmy – Ukraine always put on a great performance both at the main Eurovision and the Junior. Tonight was no exception. A great stage show and the song has a great production. Very strong.
11: Belgium – Laura Zo Verliefd (Yodelo) – a cute and commercial song from Belgium. Laura will definitely obtain lots of votes tonight.
12: Belarus – Yury Demidovich Volshebnyi Krolik – this song is different from anything else in the show. Yury is singing about a magic rabbit. Very unusual song and may do well because it is so different.
13: F.Y.R. Macedonia – Sara Markoska Za Ljubovta – a marvellous song to end. A great show and vocal performance from Sara and her backing vocalists and dancers. This song is very mature and would be a great adult Eurovision song.
So, after the songs Ani Lorak treated the audience and viewers at home to 2 songs. First, I'm Alive, this was a big hit for her this year in Russia, and also her 2nd placed song from the 2008 Eurovision, Shady Lady.
The atmosphere was electric and then on to the most exciting voting with the leaders changing several times. Finally, The Netherlands won the contest with the final votes of the evening cast by F.Y.R. Macedonia. Ralf and his dancers went crazy and collected the winning trophy before performing the reprise. Congratulations to The Netherlands…now for Belarus in 2010.