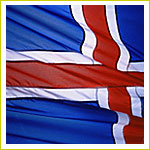 National broadcaster RÚV has today made public the names of the composers whose entries have managed to make it on to the next stage of the national selection. RÚV received a total of 164 songs, from which 15 have been selected by jurors.
The fifteen entries to make the grade will be then divided into three groups of five, each group competing in their semi final on the 14th, 21st and 28th of January. From each heat, 2 acts will advance to the final, based on a 50/50 combination of televoting and jury votes. From the remaining nine candidates that fail to advance from their respective heats, the juries will choose two entries awarding them wildcard status and thus giving them a ticket to the final.
There are no fewer than 16 names behind this year's entries in Söngvakeppni Sjónvarpsins, some of which will no doubt amount to much speculation. The biggest news is that the composers behind Jóhanna's entry Nótt, María Björk Sverrisdóttir and Swede Marcus Frenell are back for another try, this time working together with Fredrik Randquist. Does this hint at a possible return for Jóhanna this year as well? Other names to be released are Árni Hjartarson, Ellert H. Jóhannsson, Gestur Guðnason and Greta Salome Stefánsdóttir has clearly not been idle, managing to get two entries into the next phase. As if that wasn't enough, Sveinn Rúnar Sigurðsson goes one better with three of his entries making it past the jurors critical eye.
Another well know name to followers of the Icelandic national finals is Ingólfur Þórarinsson, otherwise known as Ingó, who came second in 2009 behind Jóhanna with Undir Regnbogann. He's back to give it another shot, teaming up with Axel Árnason. Other composers to have their work advance to the next round include  Pétur Arnar Kristinsson, Hilmar Hlíðberg Gunnarsson, Magnús Hávarðarson, Herbert Guðmundsson, Svanur Herbertsson and Valgeir Skagfjörð.
Prior to each semi final the batches of five hopefuls will have their entries aired on one of the national radio stations, Rás 2. Stay tuned for more information.