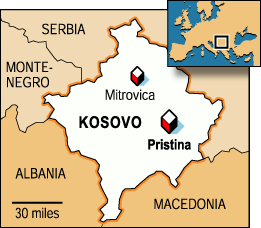 Since the Kosovan government announced it's decision to declare independence from Serbia there has been much unrest in that part of the world.  Demonstrations were numerous and Serbs were united in condemnation.
Yesterday in the mainly Serb city of Mitrovica UN forces came under heavy attack from rioters and were forced to retreat. 70 civilians were injured and 63 NATO and UN peacekeepers were also hurt in the clashes.  This violence comes just the day after Director of Eurovision TV Bjorn Erichsen stressed to the Heads of Delegation that the EBU fully supported the 2008 Eurovision Song Contest taking place in Serbia.
It has to be remembered that this violence took place in Kosovo. The last major unrest in Serbia came in late February when a rioter was killed in Belgrade after a mob set fire to the US embassy.