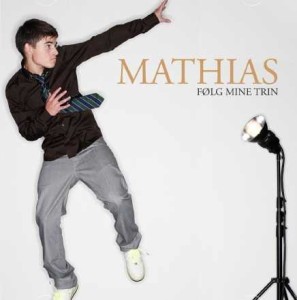 Mathias Augustine, who came third in the 2007 edition of MGP Nordic, has released his debut album. As 15 year old Mathias is also European and World champion in Hip Hop the album includes dancing instructions so buyers can learn to dance like him.
He came second in the Danish Junior final, MGP, in 2007 with the song Party. As the two best from each country participating go to MGP Nordic so did Mathias. A third place here meant that the schedule for the young schoolboy became even busier. After a year of touring around Mathias finally found time to release his first album.
The album is called Følg Mine Trin (Follow My Steps), which is quite appropriate as it also promise that the buyer can learn to dance Hip Hop like Mathis can. As he can call himself Danish Champion, European Champion and World Champion that might create new talents for the Eurovision Dance Contest, should Denmark chose to continue its participation in that.
Tracklist:
1. Mr. Showtime
2. Hvorfor Gik Hun
3. Kom
4. Regnbuen
5. Står I Centrum
6. VM Champ
7. Freaky
8. Engle Der Findes
9. Hver Dag Hver Nat
10. Party Time 2
11. Mine Trin