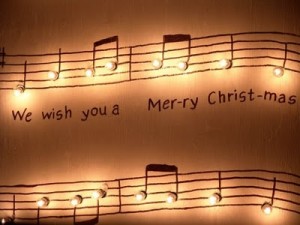 The entirely EuroVisionary team would like to wish a merry christmas to all of our readers. No matter how you celebrate the holiday we hope that you will have some good days in the company of your loved ones. 
All around the world people are gathering to celebrate these days with family or friends, but we do not all celebrate it in the same way. For myself, as a Dane, the biggest celebration takes place tonight on the 24th of December. I will explain here how that takes place:
Many people will go to church in the morning, at mid day or early afternoon depending on what suits them best. At late afternoon people will go to their host for the evening. In my case we'll meet at my parents place where my mother will have prepared the traditional Danish Chrismas dinner: Roasted pork and Duck with two kinds of potatoes; regular white ones and then some brown ones fried in sugar. Together with gravy and red cabbage this makes the main dinner. For dessert we have a rice pudding with cherry sauce. Inside the rice pudding a little nut is hidden. The one who find this nut in his or hers portion gets a little present, bought especially for this event and as such is something that fits most.
After dinner it is time to dance around the Christmas tree, which has usually been put in the livingroom, and decorated with lights, flags and traditional decoration, of which some can be quite old and have been handed over in generations, on the 22nd or 23rd of December. Underneath the tree you will find all the presents. The ones celebrating Christmas there will have brought their presents along and placed them all under the tree. If your neighbour or a colleague gave you a present you will not have opened it beforehand, but be bringing it to whereever you celebrate the evening. With all the presents under the tree we start dancing around it singing Christmas carols. There are usually songbooks available as no one is expected to know all 10 or 15 verses of the various carols and often it will de decided only to take 2 or 3 verses of some of the longer ones. This usually last about half an hour – and then it is time for presents. 
Everyone find a seat in the sofa or on the chairs near the three. Presents are traditionally handed out one by one in the way that one goes to the tree and find a present. He or she reads out from the attached card who it is for and who it is from. In case it is from someone not known to the rest of the company the reciever will first explain his or her connection to the sender of the present and after that open it. Everyone else sits and wait to see what the present is – and after it is opened and seen by everyone the one who got the present will go to the tree and pick the next present, read out to whom it is and from whom – and that way it continues until all the presents are opened. 
After the presents there is time to relaxe a bit, talk about the presents and maybe even play a board or a dice game – all along eating candy, special Christmas cookies and plenty of marzipan. The ones not spending the night at the host place will often choose to drive home just in time to catch the Midnight Mass from Rome on TV.
On the 25th and the 26th the programme is a bit loser, but a Christmas lunch with the other side of the family (in case of a couple) is the most common thing. This will often include herrings, fish filets, sausages and white cabbage with cinnamon. Long walks to make up for the extra kilos a Christmas often brings will very often be fitted into the schedule as well.
This is a very traditional Danish Christmas. Some families here will have slight variations in their traditions, but it will be minor ones as the Danes generally are very protective of their traditions.
With the best wishes of a Merry Christmas to all of our readers:
Glædelig jul! Merry Christmas! Tezze Iliniz Yahsi Olsun! Gëzuar Krishtëlindjet! Tchestita Koleda! Sretan Bozic! Prejeme Vam Vesele Vanoce! Vrolijk Kerstfeest! Ruumsaid juulup|hi! Hyvää joulua! Joyeux Noel! Fröhliche Weihnachten! Kala Christouyenna! Kellemes Karacsonyi unnepeket! Gleðileg Jól! Buone Feste Natalizie! Prieci'gus Ziemsve'tkus! Linksmu Kaledu! Sreken Bozhik! IL-Milied It-tajjeb! God Jul! Boze Narodzenie! Feliz Natal! Sarbatori vesele! Pozdrevlyayu s prazdnikom Rozhdestva is Novim Godom! Hristos se rodi! Vesele Vianoce! Vesele Bozicn! Feliz Navidad! Noeliniz Ve Yeni Yiliniz Kutlu Olsun! Schéi Feierdeeg! Srozhdestvom Kristovym – or whatever you might prefer to say ;-).