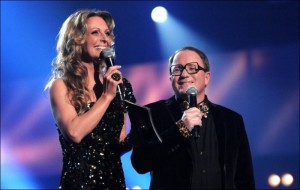 The departure of Per Sundnes from Norwegian broadcaster NRK as lead figure of the popular Melodi Grand Prix caused shockwaves, taking many be surprise. His decision to quit was perhaps extra disappointing for NRK as he left to begin at a rival channel. Now his sidekick Marte Stokstad is also to leave the show, it has been revealed today.
Marte Stokstad seemed to be the ideal accompaniment to Per Sundnes – tall, elegant, bubbly, she came across on screen so well and brought a fun, relaxed feel to the show. Praise was heaped upon Stokstad following this year's edition of Melodi Grand Prix, complementing her on her programme presentation skills. At the time of writing, the popular presenter has yet to issue a press statement regarding her decision.  
What has been made known, however, is that Stokstad will remain with NRK and that her decision to leave Melodi Grand Prix is due to commitments elsewhere with the brodcaster, where she will be involve in developing a new programme concept, thus giving her too little time for the annual TV spectacle. Judging by her comments to Norwegian tabloid VG, MGP is something she really wants to do, but just hasn't got enough hours in the day. Stokstad remained tight lipped with details surrounding the new project she will be working on, but it is known that she will be programme host in the new venture too.
Stokstad has only presented two editions of the national selection, in 2010 and 2012, and has proven to be a hit surprisingly enough with male viewers. She was forced to bow out for a year in 2011 due to pregnancy, but was then replaced by her equally stunning younger sister, Anne Rimmen. Stokstad has on all accounts thoroughly enjoyed her time working at the circus that is Melodi Grand Prix, as she told VG: "It's fantastic fun to lead such huge direct broadcasts in front of such large audiences. But I am sure that new programme hotst will bring something new to the table. Even though many aspects of the show production are fixed and quite rigid, hosts still get to make their contribution."
Colleagues at NRK can't praise Marte Stokstad's work enough, with head of entertainment at NRK, Charlo Halvorsen awarding her douze points. But the broadcaster is determined to move on, and so has begun it's search for new hosts. Halvorsen stated the importance that the Melodi Grand Prix concept doesn't grow stale and that one of NRK's top priorities is so find suitable candidates for the job who will offer the show something new while at the same time maintaining one of the strongest TV concepts to exist on Norwegian television.