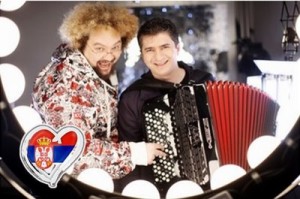 Marko Kon and Milan Nikolic will represent Serbia at the Eurovision Song Contest 2009 in Moscow with the song "Shoe". The team has been promoting their song around Europe. Versions in Russian, Finnish, French and Greek are already available for download while a Hebrew one is on the way.
Marko Kon is known as a famous music producer and composer in Serbia and the other ex Yugoslavian countries. From March 8th until now Marko Kon has been promoting his song with the rest of the team around Europe making the big preview party in amsterdam Saturday the last stop.
He has also found time to release other versions of the song. The Russian version "Bashmak" is in particular interesting because of the beats and faster parts of the song. The lyrics are written by Endi Mikev, a Russian guy from Kazahstan. Milja Baletic, a Profesor of Russian language helped Marko with the accent and pronounciation of the words.
The French version is called "Chaussure". It was a problem for Marko to sing this word "Chaussure" correctly, so they changed the name in the last moment in "Godasse" that means a bit different kind of shoes in the Serbian language which was funny to the audience. Dr Cool and famous Serbian actor Rastko Jankovic, who lives in Paris, wrote the lyrics. Special guest on that version is Ana Stanic, well known Serbian pop singer.
A Greek and a Finnish version are available as well .The authors of Finnish version "Saapas" are Tero Aalta and Timo Mizzles from Ogae Finland while the Greek version "Patrikalo" is written by member of Governing board Ogae Serbia, Milena Beric.
A Hebrew version of the song soon be made available as well.
Below you can watch the performance of Marko Kon and Milan Nikolic from the national final, Beovizija 2009. This is of course in its original Serbian version.