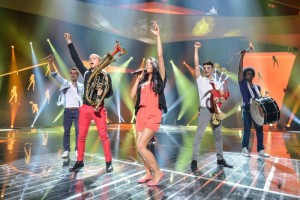 Romania is rich in Eurovision talent and statistics prove it. They have qualified for every final since the semi-final system came into play in 2004 and Mandinga will try to keep the record. Will we listen to the fusion sound of Zaleilah in the final?
According to the rules, we are not going to see the whole Romanian-Cuban band on Baku Crystal Hall's stage but the six allowed members are Elena (lead vocals), Alex, Chupi, El Niño, Omar, Zach and Tony. At the beginning of the song the musicians are the main protagonists, especially the bagpipe player who introduces the song until Elena enters the picture, just as we remember from the national final.
The rehearsal was full of energy. The lead singer is good and her stage presence is fabulous. They were all dressed in casual clothes. Elena wore a pink dress and a black jacket.
The vocals are not really much to write home about, but it is an infectiously upbeat track with a good mix of styles and the opening bars with the marching band drums bring a smile to the face of the listener.
Stage lighting at first was dark with white flashes and the background turns more colorful as it advances the performance. For the chorus it goes pink or orange with black love hearts.
The dance is a bit confusing, but who cares… They have made up a catchy dance routine for this catchy song.
Good stage presence, decent voice and great potential for a top 10 spot. Surely they will bring us a spectacular show on 22 May.
Below you can see our 3D video from this rehearsal. Remember that EuroVisionary as the first media are recording in 3D from the 2012 Eurovison Song Contest.