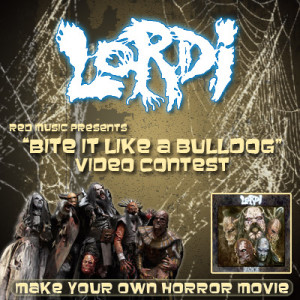 Can you make a horror video to Lordi's new single "Bite It Like A Bulldog"? The band that made headlines around the world for their participation and victory in the 2006 Eurovision Song Contest have opened a horror video contest among their fans in the U.S.
Lordi is asking their fans to first download the single Bite It Like A Bulldog, use it as background track on a horror video they record themselves and upload it to a specific YouTube group. The rules for the content of the videos are pretty simple: "Feel free to make your video as creative and scary as you want! The more bizarre the better!"
The competition runs until the 18th of November and the fan with the best video wins a guitar, the three latest CD's and a tour poster – everything signed.
When you read further down the lines on the YouTube page it is mentioned that the competition is only open for U.S applicants so it appears like fans in Europe might have to use a the name of a friend or a relative in the states to be accepted.
Links
Lordi horror video contest on YouTube
In my view
I know that Lordi is trying to make themselves a name in the U.S and is somewhere getting there, but to me it seems a bit offensive to their fanscare that only U.S applicants are accepted. What happened to their fans in their home country Finland, not to mention the rest of Europe?

It is probably American interests paying for this, but quite frankly Lordi should not have to forget their European background in order to make it in the U.S.  

The opinion expressed in "In my view" are those of the author and are not necessarily the one of EuroVisionary.com.