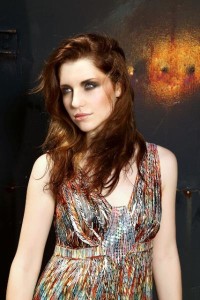 Tonight, Slovenia decided its representative in the 2011 Eurovision Song Contest through the highly anticipated selection show EMA. Ten contestants, internally selected by the Slovenian national broadcaster RTVSLO, were battling for that honour. The winner was Maja Keuc with the song, Vanilija, chosen by televoting.
The show started at 20:00 CET from Ljubljana and it was hosted by Klemen Slakonja. There were a total of ten performances, but just two of them were allowed to go through to the super-final thanks to the jury voting. The super-finalists were April and Maja Keuc who were, in this final round, at the mercy of the Slovenian audience who voted for their favourite via phone and SMS.
The songs:
Song number 1. Rock Partyzani – Time For Revolution composed by Aleš Klinar.
After seven years together, two albums, more than five hundred performances and concerts in Slovenia and abroad, they were for the first time in EMA. Members of the band remain true to social criticism and funny lyrics. Nowadays, they think that things are far from what people want, so their song has basically an optimistic nature about freedom and prosperity. They were three men and a woman dressed in military uniforms. They had a little choreography and, halfway through the song, there were two dancers who did some acrobatics and then joined the routine they had. The song is like a military music but very catchy. Despite the title of the song being in English, it is mostly in Slovenian.
Song number 2. Tabu – Moje Luči (My Light) composed by Tomaž Trup and Iztok Melanše.
The song is about a girl who every night, on the mountain, turns her heart and sees her beloved from afar. The five members of Tabu are Primož Štorman (drums), Iztok Malenšek (electric bass), Tina Marinšek (voice), Aleš Beriša (keyboards) and Tomaž Trop (electric guitar). All of them were dressed in black. The singer wore a black dress in leather – very original. At the beginning of the song, she was wearing a hood over her head to hide her face. She wore makeup in her eyes which was very striking in bright blue. Her voice sometimes seemed out of tune. She would need to give more power to the song.
Song number 3. Nina Pušlar – Bilo Lepo Bi (It Would Be Nice) composed by Martin Štibernik, Dejan Radičevič.
She is a domestic star since she ended up in the second position on EMA 2010. Her entry for this year is a playful song that has a positive message. The red-haired singer wore a beige dress and gold and shiny boots. On stage there were two backing singers and two men, wearing sunglasses, playing drums in a choreographic way. They were all dressed in black suits, white shirt and black tie. She seemed very confident with the song but it is not too catchy. 
Song number 4. Maja Keuc – Vanilija composed by Matjaž Vlašič and Urša Vlašič.
After numerous appearances with major Slovenian artists she was, until now, generally recognized as a singer and arranger, but more and more she is being known for her own songs. She has a great voice and her song is full of power.  It is a typical love theme about a boy and a girl and that could be easy for people to feel identified with this message. On her performance, she gave all of herself, and she was enjoying a lot. She was dressed in a black night dress and wearing boots. On stage were also two men dancing and two backing singers. The song allowed Maja show that she has magnificent vocal qualities. It has the style of a power rock ballad with a very good rhythm which is increased along the track.
Song number 5. Feliks Langus – Disko Raj (Disco Paradise) composed by Matej Mršnik, Anže Langus and Alen Steržaj.
The band was built from a common desire to create music. Mateja and Anžeta's musical paths first met ten years ago, and the idea of having their own group was formed less than a year ago. They had worked with other artists but they wanted to realise their own ideas. They make it seem that the Bee Gees are alive again. They have a promising style. It is a pop-soft rock song and it has a disco rhythm but lacks a strong chorus. On stage were the three members of the band and two backing singers. They were dressed informally. The lead singer wore jeans, a black jacket and a scarf tied around his neck. In the middle of the song, they had a little choreography.
Song number 6. LeeLooJamais – Slovenka (Slovenian Girl) composed by Leeloojamais and Sašo Pipič.
They are a Slovenian group with an enormous knowledge, energy and talent who are recording their fourth studio album. They have a vibrant sound because they know very well how to flirt with the instruments to create a new kind of electronic music. As a result, the saxophone sounded sometimes like a keyboard, the guitar sounded as a bass and the bass like a clarinet. On stage, attention was focused mainly on Lara, the singer. She was wearing a blue dress and yellow high heels. The musicians were dressed informally. Pay attention to the interpretation of the guy who played the drums because he was too exaggerated in his movements and he was right behind the lead singer. The song is very danceable and it can be a great hit but not very suitable for the Eurovision Song Contest.
Song number 7. April – Ladadidej composed by Raay, Erika Mager and Franci Tepina.
She is a fresh artist on the domestic music scene, but she has been working with music since early childhood. This is a challenging song. She wore her characteristic huge sunglasses so as not to disclose who is behind her nickname. She was dressed in a gold dress and a headdress together with the dress. The song has a very disco chorus. Actually, the chorus is the best thing about the song and, in fact, it is repeated many times. On stage were two dancers and three singers dressed in black. April's voice sounded a bit weak sometimes and she moved with a kind of robotic movements.
Song number 8. Sylvain, Mike Vale feat. Hannah Mancini – Ti Si Tisti (You Are The One) composed by Hannah Mancini, Mike Vale and Anze Palka.
Sylvain and Mike Vale are two old acquaintances of concert clubs, pioneers of Slovenian dance music and DJ's with an incredible sense of the rhythm. Hannah Mancini is an American singer who is working in the field of dance and electronic music who currently lives in Slovenia. They were the greater enigma for this year's EMA. They came with a positive love anthem, very strong and energetic and such dance music is tailor made for this show. The verses are in Slovenian and the chorus is in English. It is a different style of electronic music. This is more house. She was dressed in a blue dress and an original black jacket that only covered one of her arms. On stage were also both DJ's and two backing singers dressed in black. The focus was primarily on Hannah who has spectacular vocal qualities that suit very well to the song.
Song number 9. Time To Time – Pravi Čas (Right Time) composed by Tomaž, Nino and Samo Kozlevčar.
The idea for the creation of this group came more than one year ago and their repertoire includes elements of gospel. This song is something different. It is hard to say what style is but it is like a power ballad. They were three singers and one of them was playing the piano at the beginning of the song. They were dressed alike in black suits, white shirts and bow ties. On stage there were also three backing singers dressed in black. Their voices were well harmonized when they sang together.
Song number 10. Omar Naber – Bistvo Skrito Je Očem (The Point Is Hidden From Eyes) composed by Omar Naber, Jure Golobič and Eva Breznikar.
He represented his country in 2005 with the self-composed song Stop, finishing in 12th place in his Semi-Final. In EMA 2009, Omar Naber gave it a new shot with the song I Still Carry On, finishing in second place and narrowly missing out on another Eurovision Song Contest experience. His song is like an anthem, very easy to sing and very catchy. It has a lot of rhythm from the beginning but it also has a much more relaxed part where Omar can sing more quietly and show that his vocals are strong. He was wearing a white shirt, black trousers and sneakers. On stage there were also four musicians: a drummer, a keyboard player and two guitarists.
The show:
The scene was very original. The public was a part of the decoration. It was as if they were in theatre boxes, standing dancing to the rhythm of the songs.
All songs and performances were commented by the all-female expert committee who were giving their opinions on each entry after its presentation. That was composed by Darja Švajger (two time EMA winner and Slovenian representative in the 1995 and 1999 Eurovision Song Contest), Severina Vučković (Croatia 2006) and the television presenter and Eurovision Song Contest commentator Mojca Mavec. They had a key role in the country's decision and they were judging choreography, whole image of appearance and singing of all the candidates.
While the judges were deciding who would be the two super finalists we were entertained with a great show of dancers performing last year's EMA winner Narodnozabavni Rock. All of them were dressed in white and they made a perfect choreography. There were more than 15 dancers, men and women, perfectly synchronised. Also, they were in charge of bringing to Klemen Slakonja the envelope with the names of the two finalists.
The audience had the last word while the finalist songs were performed once again on stage.
While we were waiting for the audience, we could enjoy with the performance of Severina Vučković who sang the song Moja Stikla that represented Croatia in the 2006 Eurovision Song Contest; Darja Švajger with the song Prisluhni Mi, the Slovenian 1995 Eurovison Song Contest entry, that was sung as a duo with Klemen Slakonja who also did his own parody version of Moja Stikla titled Moj Mokasin and an excellent performance of the song Let Skomin.
The results:
Jurors decided that the two candidates who deserve to go to the super final were April and Maja Keuc.
The Slovenian audience had the last word. The winning entry was selected by televoting during the show and the most voted for them was Maja Keuc, who will be the Slovenian representative in Düsseldorf with the song Vanilija.
Slovenia will participate in the second semi-final on May 12th.